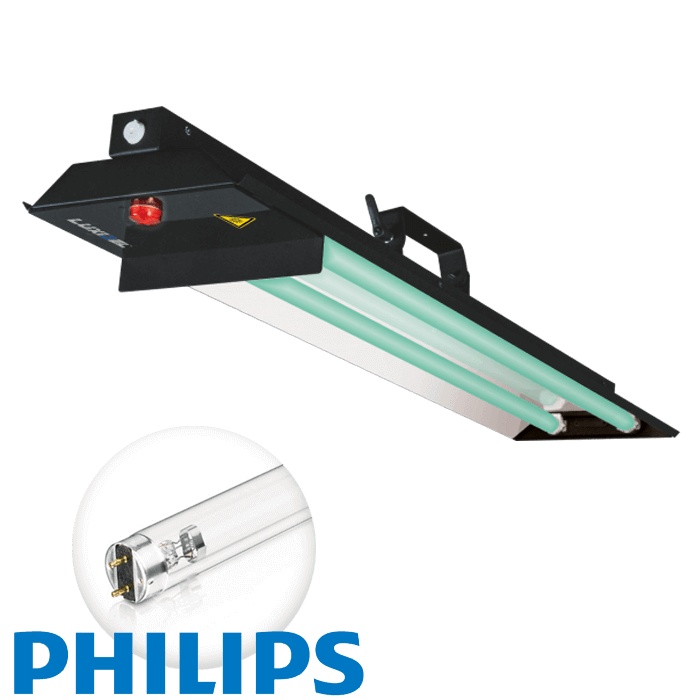 Luxibel UVC Sterilizer - B Direct II (up to 38 m²)
Product No. I0054524
To order Luxibel UVC Sterilizer - B Direct II (up to 38 m²), please contact a member of our team via chat or email (info@shopmtn.eu), or give us a call at +353 1 691 7930
Shipping calculator

Please enter correct zip code
Payment methods
Shipping information

To order Luxibel UVC Sterilizer - B Direct II (up to 38 m²), please contact a member of our team via chat or email (info@shopmtn.eu), or give us a call at +353 1 691 7930
Product details

Certified & Highly Effective Double UVC Light for Air & Surface Disinfection

Lamp Lifetime: 9000 hours┋Quickly Eliminates 99% of Viruses etc┋Up to 38 m²┋Broad Application┋No Ozone Emission┋Made in Europe┋Fast Air & Surface Disinfection

Made in Europe with high-quality PHILIPS UVC germicidal lamps, UVC sterilizer B Direct II featuring 2 PHILIPS UVC lamps disinfects air and surface (up to 38 m²) more quickly than B Direct. It prevents secondary infections and eliminates bacteria, viruses and fungal and mould spores in the air. Its standard double security includes a moving sensor and extra safety.

It can be used in production halls, hospitals, health care facilities, pharmacies, public transport and many more. We are now accepting pre-orders. Orders require a lead time of 2 weeks for delivery. 

Spec Sheet & Cert - User Manual - UVC Disinfection Blog with 7 FAQs

---

FEATURES & BENEFITS:

A quick, safe, reliable and sustainable disinfection solution
Eliminate 99% of viruses, bacteria, fungi and harmful microorganisms
Very Fast Disinfection Time: < 15 min at a disinfection distance of 3.5m [With the same disinfection distance, the treatment time is only half of B Direct's.]
Very Large Disinfection Coverage: up to 38m²
Long Light Source Lifetime:

 

9,000 hours [Recommended lamp replacement time: 1 year]
Multiple Mounting Options:

 

Wall, Ceiling or Tripod
PHILIPS UV Lamps:

 

35 years of experience in developing and manufacturing UV-C products 
A broad-scale of accessories:

 

PHILIPS UVC lamp (TUV55W HO),

 

wireless controller and

 

mounting arm  [Protective foil for the radiator is available on request]
Wide compatibility: offices, meeting rooms, theatres, supermarkets, factories, retailer shops, 

production halls, hospitals, health care facilities, pharmacies, public transport, etc

UVC LIGHT SAFETY FEATURES:

Alarm Notification: Once B Direct II is powered on, the following features will activate to notify users the unit is in operation.
- Sound alarm (will beep continuously)
- LED alarm (will flash continuously)
Sensor Detection: The 360° motion sensor will detect the movement and within 20ms after detection, the unit will be powered off
EN 62471:2009 (idt IEC62471:2006) Photobiological safety of lamps and lamp systems

SPECIFICATIONS:

Coverage: Up to 38 m² 
Light source: 2x TUV 55 W HO[High Output]
IP Rating: IP20
Input power: 112W AC 230 - 50 Hz
Dimensions: 1080 x 135 x 245 mm
Weight: 5.3 kg
Wavelength: 254nm (UVC)

UVC LIGHT CALCULATOR:

Select a UVC sterilizer model
Estimate the distance between the product and the working surface
View the treatment time that is automatically calculated
(By default, the dose is set to

 

67 

J/m²

 that is the average dose required to inactivate Coronaviruses)

 

---

BENEFITS OF UVC LIGHT TECHNOLOGY:

UVC radiation has been proven to be effective against waterborne and airborne pathogenic micro-organisms including those responsible for cholera, hepatitis, polio, typhoid, giardia, cryptosporidium and many other bacterial, viral and parasitic diseases
UVC installations have low capital and operation cost
UVC technology is environmentally friendly
UVC installations are easy to operate and to maintain
UVC radiation has no harmful effect when overdosed on surfaces, water or air
UVC radiation works instantly and the effectiveness does not depend on the temperature
UVC disinfection is a physical process: no substances are added
The UVC disinfection effect is directly related to the UV dose (which is the product of intensity and exposure time of the micro-organisms) so it's effectiveness can be simply measured once the system design is validated

Disclaimer: The information in this document has been compiled from reference materials and other sources believed to be reliable and given in good faith. No warranty, either expressed or implied, is made, however, to the accuracy and completeness of the information, nor is any responsibility assumed or implied for any loss or damage resulting from inaccuracies or omissions. Each user bears full responsibility for making their own determination as to the suitability of Luxibel products, recommendations or advice for its own particular use. AED Distribution NV makes no warranty or guarantee, express or implied, as to results obtained in end-use, nor of any design incorporating its Products, recommendation or advice. Each user must identify and perform all tests and analyses necessary to ensure that it's finished application incorporating Luxibel's products will be safe and suitable for use under end-use conditions. Each user of devices assumes full responsibility to become educated in and to protect from harmful irradiation. AED Distribution NV specifically disclaims any and all liability for harm arising from buyer's use or misuse of UVC devices either in development or end-use.