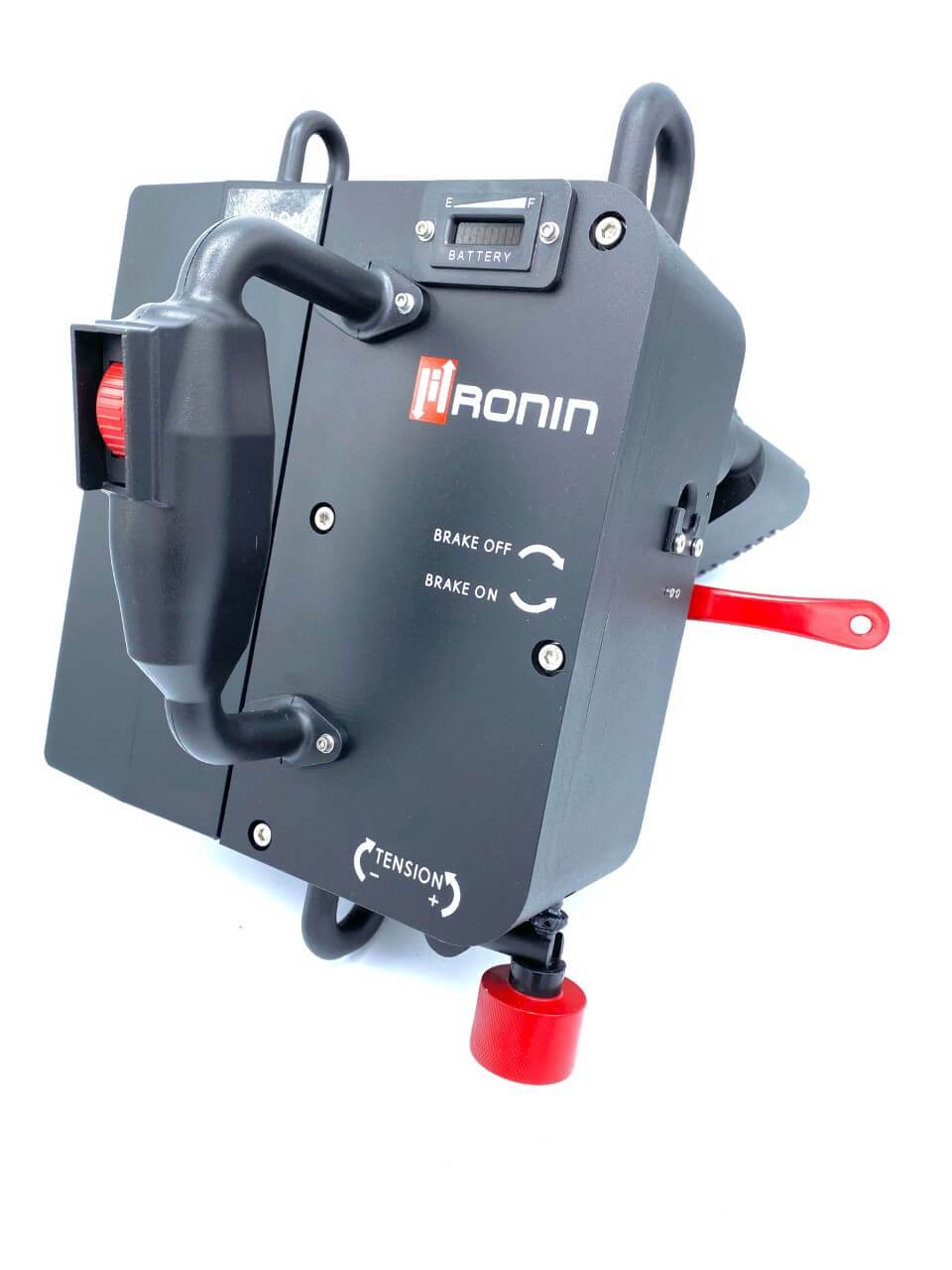 Ronin Lift - Battery Powered Ascender
Product No. 2805-11
Shipping calculator

Please enter correct zip code
Payment methods
Product details

---

Ronin Ascender - Bidirectional Power, Never Has It Been Easier to Get up & down

The RONIN LIFT weighing only 10kg is one of the lightest powered ascenders on the market. It is also smooth, fast, and easy to use for at-height workers, removing the physical strain and fatigue of climbing. Whether it is used for mountaineering, building maintenance, search & rescue, wind tower access, film rigging or tree care, the ascender will take your adventure to new heights.

Developed to manage heavy loads in tough environments, it maintains controlled acceleration up to the safe working load of 181 kg. With its mechanical advantages up to 3:1, loads of up to 544 kg can be accommodated. Both anchor points are rated at 2260 g for confident rigging. (Rope sold separately)

Spec Sheet - User Manual - CE Certificate

---

ITEMS INCLUDED : 

1x Ronin Lift Personal Ascender
1x Lithium-Ion Rechargeable Battery
1x AC Power Supply & Cord (i.e. Charger & Charger Cable)
1x Rope Brush

FEATURES & BENEFITS :

Lightweight & portable
Rugged and durable construction
Thumbwheel trigger variable speed control
Secondary Lock safety feature for hands-free work
Hot-swappable battery pack for continuous duty all day long
Integrates with existing climbing technology 
Ready for commercial work
Works as both a winch and rope ascender
Designed and assembled in the US

---

SPECIFICATIONS

Dimension: 29cm (L) x 39cm (W) x 34cm (H)
SWL:

 

181 KG for continuous lifting
Weight:

 11 KG

Material:

 

Aluminum & Stainless steel
Finish: Powder Coat Black
Standards: Full CE and ANSI certified
Speed: Ascent - Variable (0.5 – 1.7 ft./per second) ; Descent - 4.0 ft./sec. max @ 400 lbs
Battery Type:

 

28 VDC Lithium Ion Rechargeable
Battery Re-Charge Time: around 2.5hours
Rope Types: 10-12 mm diameter Aramid or Kernmantle Static Line Rope

---

OTHER RESOURCES

We stock Dirty Rigger Rope Gloves at our rigging shop. Get a pair of high-quality gloves to make the rope access & rescue jobs easier. For any inquiries, please contact us via Chat.

Ronin Ascender - Puissance Bidirectionnelle

Voici le RONIN LIFT, l'ascendeur à piles qui a été développé pour une véritable aventure.

En plus de son prix abordable, le Ronin Lift Ascender est l'appareil incontournable car il est léger, contient une batterie remplaçable à chaud, est capable de soulever jusqu'à 400 livres et possède une conception robuste qui vous permettra de surmonter tout de vos défis quotidiens.

Qu'il soit utilisé pour l'alpinisme, l'entretien des bâtiments, les espaces confinés, l'accès à la tour éolienne, le gréement de films / TV ou le soin des arbres, le Ronin Ascender portera votre aventure vers de nouveaux sommets.

Pour toute demande, veuillez nous contacter via le Chat.

---

CARACT ÉRISTIQUES & AVANTAGES:

Léger et portable
Construction robuste et durable
Commande de vitesse variable par molette
Fonction de sécurité de verrouillage secondaire pour un travail mains libres
Batterie remplaçable à chaud pour un fonctionnement continu toute la journée
S'intègre à la technologie d'escalade existante

Prêt pour le travail commercial

Fonctionne à la fois comme treuil et ascendeur
Conçu et assemblé aux États-Unis

ÉLÉMENTS INCLUS:

Ronin Lift Ascendeur Personnel
Batterie Rechargeable au Lithium-Ion
Alimentation Électrique de AC
Cordon D'alimentation de AC

---

SPÉCIFICATIONS TECHNIQUES:

Dimensions: 29cm (L) x 39cm (W) x 34cm (H)
Capacité:

181 KG pour un levage continu
Masse:

11 KG

Matière

:

Aluminum et Acier Inoxydable
Finition: Revêtement en Poudre Noire
Normes: Certifié CE et ANSI
Vitesse: Ascension - Variable (0.5 – 1.7 ft./par seconde) ; Descente - 4.0 ft./sec. max @ 400 lbs
Type de Batterie:

28 VDC

Rechargeable au Lithium-Ion

Temps de Recharge de la Batterie: Environ 2.5 heures
Types de Cord: Corde statique en Aramide ou Kernmantle de 10-12 mm de diamètre

---

AUTRES RESSOURCES:
Amazing and budget product
I can't find any ascender with this quality and great Price
Choosing a selection results in a full page refresh.
Opens in a new window.