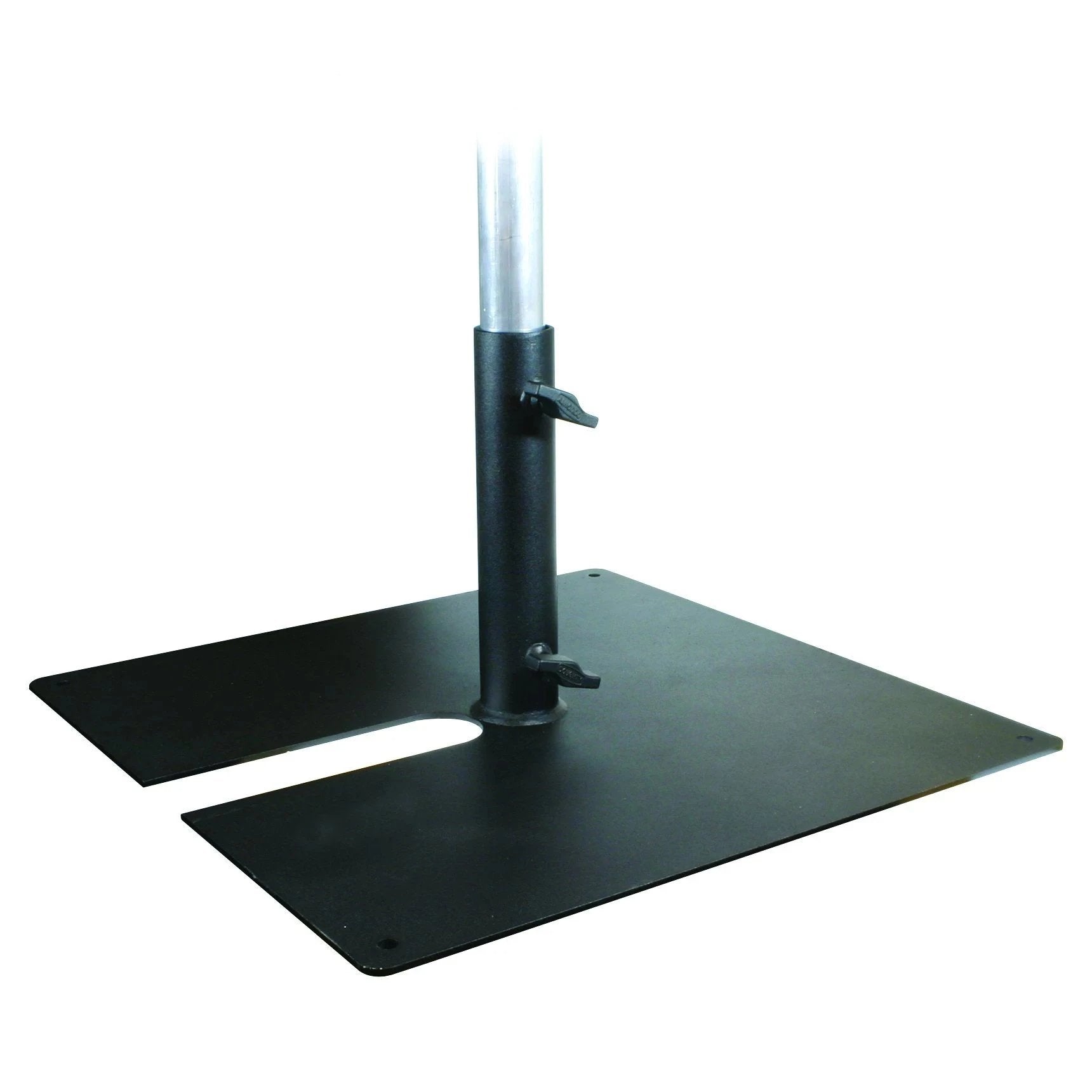 Doughty Tank Trap /Lighting Boom Base (Fit ⌀48mm Tube)
Product No. T54250
*IMPORTANT NOTE* - All Doughty products are shipped from the UK. We will cover all customs charges on your delivery in advance so no extra payment is needed from you. We require a minimum order value of €50 for all Doughty products.
Please note if you order less than €50 worth of Doughty products, your order will be refunded.
Regular price
$151.00

excl. $34.73 VAT
$185.73

incl. $34.73 VAT
Unit price
per
Shipping calculator

Please enter correct zip code
Payment methods
Product details

Doughty Tank Traps - Lighting Boom Base for Light Trees

Tank trap is regarded as the best boom base to create sidelight or cross light across the stage. This standard Doughty tank trap comes with three options - fixed base, 2 wheels, and 4 castors.

Fitted with a Long Receiver to Secure a Pole
Doughty Tank Trap consists of a sturdy steel plate and a 50mm receiver with 2 knobs. It provides the means to support a 48mm diameter vertical tube/scaffold pole, also known as a lighting boom, to fly luminaires etc. The heavy square metal plate with a suitably long receiver can keep the boom upright and stable by tightening 2 knobs. The feature of this long receiver is hardly found on the market. Attached with horizontal boom arms, lanterns can be mounted with clamps to create sidelight or cross light across the stage. See thumbnail.

To Secure H-Frame

Besides supporting a pole, these boom bases work perfectly with H frame to form a lighting ladder. A wide variety of Doughty clamps is available for mounting lights or other equipment.

More Benefits...
With the fixing holes on the plate, this lighting boom base can be mounted to the floor. More commonly, the base is weighted with sandbags to hold it in place. There is a cut out in the base to allow compact stacking for transport and storage. Read more about Doughty Tank Trap on our MTN Shop Blog. 

Fast & International Delivery Now! For any inquiries, please contact us via chat. 

---

Features & Specifications

Square Steel Plate: 600mm x 600mm (2ft x 2ft)
Long Receiver: 50mm diameter (to suit ⌀48mm barrel) and 305mm tall
Fixing Holes: 4 x 12mm diameter on the plate
Weights:
-

T54250

: 16.14kg, with a fixed base only
-

T54255

: 16.5kg, with 2 wheels
Fitted with two wheels this tank trap can be easily manoeuvred by tilting back and wheeling into position (See the image).
Dimensions: refer to the basic one (T54250).
-

T54260

: 18kg, with 4 castors
Supplied without stacking slot to increase stability when on castors. 4 braked castors fitted. 


Dimensions: refer to the basic one (

T54250).

Items you may also need for stage lighting: 

We newly added Dirty Rigger Gloves & Accessories specifically designed for entertainment professionals to our rigging shop. Get a pair of high-quality rigging gloves to make your strenuous jobs easier.

Absolutely Recommendable
Very easy for transport and storage! Save loads of our effort and time!