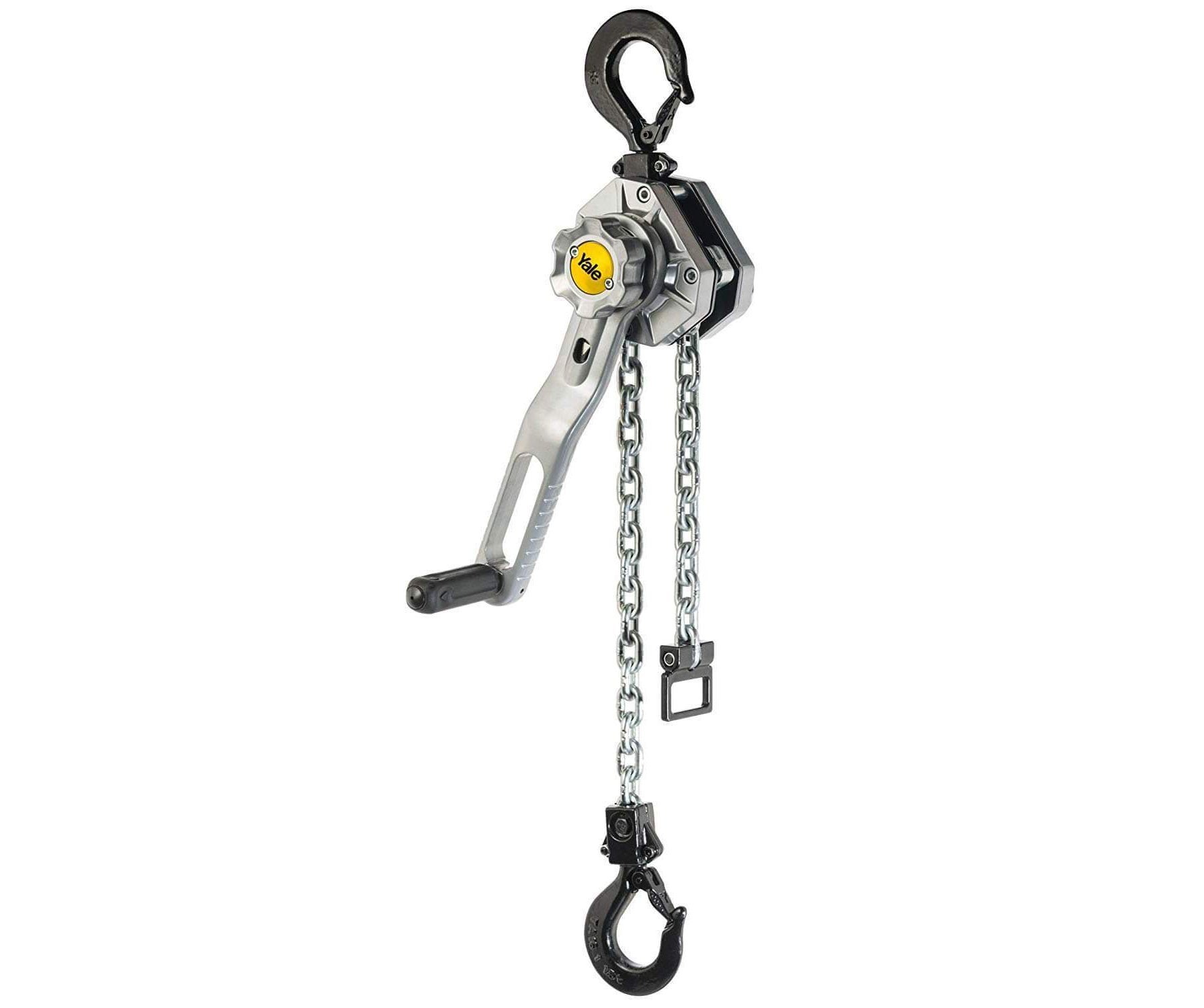 Yale Ratchet Lever Hoist (Model Yale ERGO 360) 750-6,000KG
Product No. YaleERGO 360 750-1.5
Regular price
$472.00

excl. $108.56 VAT
$580.56

incl. $108.56 VAT
Unit price
per
Shipping calculator

Please enter correct zip code
Payment methods
Product details

[EN] Yale ERGO 360-Ratchet Lever Hoist

Ratchet Lever Hoists are also known as lever hoists, come alongs or lever blocks. They can be used for vertical and horizontal movements like pulling, dragging, stretching and positioning loads across industries by operating the lever/handle with one hand.

With the capacity ranging from 750kg to 6000kg, Yale ERGO 360 is a multi-award-winning ratchet lever hoist featuring the 360-degree rotating crank handle that revolutionizes the ratchet lever hoist industry, resulting in an ultra-efficient operation in both lifting and pulling applications.

Ergonomically designed for increased safety, the patent-pending Yale ERGO 360 lets the operator work up to 12 times faster and with as much as 30 % less pull force than with conventional ratchet lever tools. The capacity of this lever hoist ranges from 750kg to 6000kg and the lift from 1.5m to 18m. For additional lifts, please contact us via chat.

Yale is a global brand of Columbus McKinnon (CM). The Yale name is synonymous with quality hoisting equipment and has been since 1877 when Linus Yale, Jr. produced the first spur geared hand chain hoist with the Weston Screw Brake. Today, nearly 145 years on, Yale still leads the industry with new and innovative products, making their hoists and lifting equipment the no.1 choice in the UK and globally recognized.

 

Technical Data - Product Brochure - Manual Hoist Guide(Lever Hoist vs Chain Hoist)

---

BENEFITS & FEATURES

CRANK HANDLE

Its unique foldable lever handle and 360° rotating action increase productivity while reducing the risk of operator injury.
Operators can securely grip the non-slip handle.
Made of durable polyamide with a heavy-duty steel core for rugged use.
The handle can be folded down and returned to the upright position on either side of the lever.

CONVENIENT DIRECTIONAL INDICATOR

Easy-to-use, highly visible directional indicator located on the handle clearly shows the operating direction as lifting, lowering or neutral.

EASY & SMOOTH FREE CHAINING

For quick take up and positioning of a slack chain – even with one hand. Designed not to accidentally free chain while under load.
Cast chain end stop allows the user to easily position the chain in free-chaining mode and prevents it from entering the lift wheel and jamming the hoist.

BUILT TO LAST

Lightweight aluminum housing withstands rigorous use and features high-quality, long-lasting bearings.
Powder coat finish provides extra protection in harsh environments.

EXCELLENT CORROSION PROTECTION

Robust chain guide and chain stripper made from cast steel and zinc-plated for corrosion protection.
Galvanized load chain

EASY-TO-INSPECT SWIVEL HOOKS

Bolt on hooks with nyloc nuts simplify the inspection process. Hooks are forged, allowing them to yield under overload without breaking. Cast safety latches provide positive and secure load engagement.

EASY IDENTIFICATION

Each unit has a unique serial number for easy and accurate identification.

POSITIVE LOAD CONTROL

Enclosed Weston-type brake stays clean and dry for precise load positioning.

ITEMS YOU MAY ALSO NEED: 


Suspension: The lever hoist can be suspended in a fixed location with a Beam Clamp or from a Push Trolley/Geared Trolley with its top hook.
Load Attachment: The lower hook can directly attach a load but quite commonly a lifting sling is used to secure a load onto the hook (in conjunction with shackles sometimes)  

OPTIONS: 

INTERNAL LOAD LIMITER

Allows the handle to rotate freely when the hoist is overloaded, preventing damage to the unit.
Load limiter units feature a black hand wheel for quick and easy on-site identification.

RADIO FREQUENCY IDENTIFICATION

Simplify inventory and inspection management processes.

SHIPYARD HOOKS

Available for 1500 kg and 3000 kg units.

[FR] Palan à levier Yale ERGO 360

Redéfinissant l'utilisation du palan à levier le Yale ERGO 360° présente sa poignée révolutionnaire associée au levier qui permet une utilisation efficace dans n'importe quelle position. Il apporte la flexibilité ultime et permet de changer facilement votre prise. La conception du palan permet à l'utilisateur de travailler en toute sécurité, dans une position ergonomique. Et un rapport de réduction associée à des roulements de qualité décroit l'effort nécéssaire, réduisant ainsi la fatigue de l'opérateur.

Données Techniques

Conception ergonomique pour une sécurité accrue.
Jusqu'à 30% d'effort en moins pour l'opérateur.
Permet de travailler jusqu'à 12 fois plus rapidement.
CHANGER FACILEMENT VOTRE PRISE: Le YaleERGO 360® apporte la flexibilité ultime. Lors d'une utilisation normale du levier, le YaleERGO 360® peut être utilisé comme un palan à levier traditionnel, la poignée est alors en position rangée dans le levier.
POIGNÉE INTEGRÉE AU LEVIER: D'une conception ergonomique pour une sécurité accrue, le YaleERGO 360® permet à l'utilisateur de travailler jusqu'à 12 fois plus rapidement et avec un effort au levier 30% inférieur à celui d'un palan à levier conventionnel.
LIMITEUR DE CHARGE EN OPTION: Identification rapide des appareils équipés du limiteur de charge grâce au volant de couleur noire.
MAINTENANCE & INSPECTION FACILE: Les têtes de vis sont intégrées dans le corps du palan pour les protéger et éviter tout dommage, ce qui permet une maintenance plus facile et rapide à un coût réduit.

[DE] Handhebelzug Yale ERGO 360

Der Yale ERGO 360 ® definiert die Welt der Hebezeuge neu. Durch die Gestaltung seines revolutionären Handhebels mit integriertem Klappgriff ist ein effizientes Arbeiten in jedem beliebigen Winkel, sowohl bei Hub-, als auch bei Zuganwendungen möglich. Durch die ergonomische und sicherheitsfördernde Gestaltung des Yale ERGO 360 ® kann der Bediener bis zu 12-mal schneller arbeiten und kommt dabei mit bis zu 30 % weniger Hubkraft aus.

Handhebel mit integriertem Klappgriff – das Konzept, den Handhebel durch Ausklappen eines Griffs in eine Kurbel zu verwandeln, ist einzigartig und wird den Einsatz von Allzweckgeräten revolutionieren. Es gewährleistet die ideale Kraftübertragung für jeden Einsatzfall und ermöglicht erstmals einen Arbeitsbereich von 360°, wodurch die Produktivität gesteigert und das Verletzungsrisiko für den Bediener gesenkt wird.
Anzeige der Bedienrichtung im Hebel – ein Sichtfenster im Handhebel zeigt dem Anwender durch Pfeilsymbole eindeutig die gewählte Arbeitsrichtung. Das Aktivieren der Freischaltung wird durch den Buchstaben "N", für Neutral angezeigt.
Leichtgängige Kettenfreischaltung – schnelles Anschlagen der Last bzw. Durchziehen des Laststranges (Hakenseite) ist auch bei einhändiger Bedienung möglich. Die Konstruktion des Kettenfreischaltungshebels verhindert ein versehentliches Freischalten unter Last. Das gegossene Kettenendstück ermöglicht einfaches und sicheres Greifen der Kette für das Positionieren im Freischaltmodus und verhindert, dass die Kette ins Gehäuse eindringen und das Gerät blockieren kann.
Zuverlässige Lastführung – die gekapselte Lastdruckbremse bleibt frei von Verschmutzungen und Nässe, was eine präzise Lastpositionierung ermöglicht.
Hohe Lebensdauer – auch bei intensivem Einsatz überzeugt der Yale ERGO 360 mit seinem leichten, hochfesten Aluminiumgehäuse und hochwertigen Lagern. Die beständige, hochwertige Pulverbeschichtung der Oberfläche bietet zusätzlichen Schutz bei rauen Umgebungsbedingungen.
Exzellenter Korrosionsschutz – die Kettenführung und der Kettenabstreifer sind aus robustem Temperguss und zum Schutz vor Korrosion zusätzlich verzinkt.
Einfach zu wartende drehbare Haken – geschmiedete Haken und gegossene Sicherheitsbügel bieten eine zuverlässige und sichere Lastaufnahme. Die verschraubten Hakenkupplungen ermöglichen eine einfache Wartung.

[ES] Polipasto de Palanca Yale ERGO 360

Redefiniendo los polipastos manuales de palanca, el YaleERGO 360 presenta la revolucionaria maneta abatible que posibilita un trabajo eficiente tanto para aplicaciones de elevación y tracción. Diseñado ergonómicamente para una mayor seguridad, el YaleERGO 360 permite al operario trabajar hasta 12 veces más rápido, y utilizar un 30 % menos de esfuerzo sobre la palanca que otros modelos convencionales.

Datos técnicos

-

Catalogo en español

MANETA ABATIBLE - Este diseño pionero revolucionará la industria del polipasto de palanca. Su exclusiva maneta abatible y rotatoria 360º, aumenta la productividad al mismo tiempo que reduce el riesgo de lesión al operario.
INDICADOR DE DIRECCIÓN - Indicador de alta visibilidad y de fácil uso situado en la palanca, muestra claramente la dirección de maniobra, o elevación, o descenso, o punto neutro.
FÁCIL Y RÁPIDO ENGANCHE - Para un posicionamiento rápido del gancho mediante la liberación de la cadena, incluso con una sola mano. Diseñada para evitar accidentes por liberación accidental con cargas suspendidas. El tope extremo de fundición de la cadena evita que, una vez liberada fácilmente la cadena, se introduzca en la carcasa y bloquee el polipasto.
CARGA SIEMPRE ASEGURADA - El freno cerrado tipo Weston permite mantenerlo limpio y seco para un posicionamiento preciso y seguro de la carga.
DISEÑO EXTREMADAMENTE ROBUSTO - Carcasa de aluminio reforzada que permite soportar un uso intensivo y en condiciones extremas. Polipasto ligero con protección de pintura para entornos extremos.
EXCELENTE ACABADO CONTRA LA CORROSIÓN - Guía robusta de cadena y separador de acero fundido, galvanizados para una mejor protección contra la corrosión.
GANCHOS GIRATORIOS - Ganchos forjados de alta resistencia. Pestillos de seguridad de fundición de alta resistencia y durabilidad.
FÁCIL IDENTIFICACIÓN - Cada equipo tiene un número de serie para una identificación sencilla y precisa.