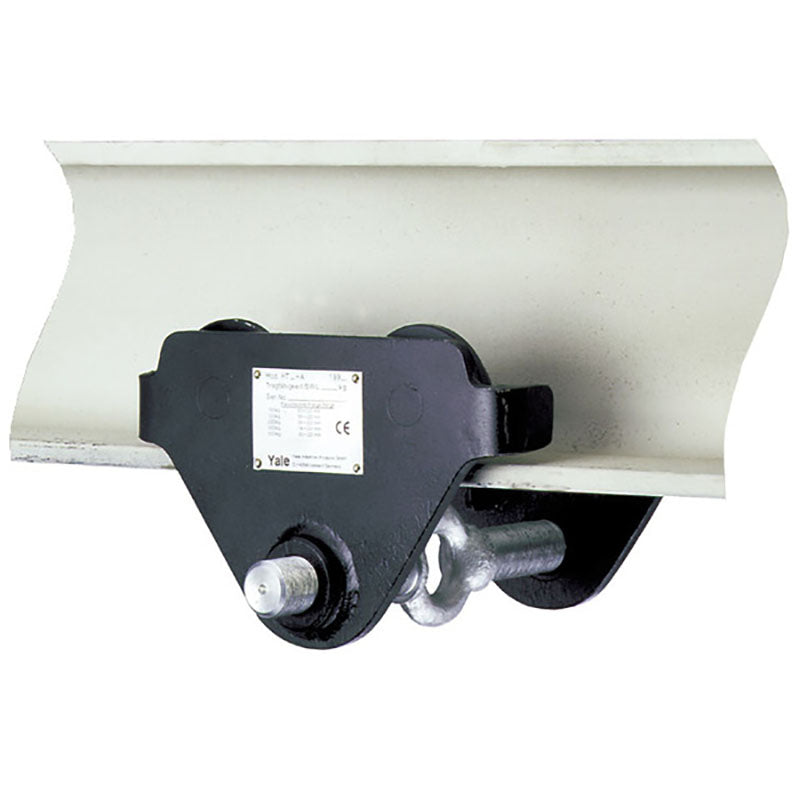 Yale Push Trolley HTP 500 - 5000kg
Product No. HTP 500-A
Regular price
$96.00

excl. $22.08 VAT
$118.08

incl. $22.08 VAT
Unit price
per
Shipping calculator

Please enter correct zip code
Payment methods
Product details

Push Trolley

Hand-Pushed trolleys support a hoist with top hook or lug mounted suspensions and operate on a flat or tapered beam. They operate by manual handling and move horizontally on a beam. The operator will grab either the hook or the item being lifted and pull or push the item to move it in the desired direction along the Beam.

This push trolley has a wide range of capacity from 500kg to 5000kg.

It enables the exact positioning or easy traversing of large loads with either manual or powered hoisting equipment.

---

FEATURES & BENEFITS

Excellent rolling features:
Due to machined steel wheels mounted on prelubricated, encapsulated ball bearings.
Versatile and Adjustable: 
- Fit a huge range of beam widths and profiles, e.g. INP, IPE, and IPB.
- Adjustments are made by rotating the clevis load bar which also ensures the centered positioning of the hoist in the clevis – no creeping to the left or the right.
The trolley wheels:
Designed for max. beam profile incline of 14% (DIN 1025 - part 1).
Trolleys: 
In accordance with the UVV and machinery directives.

OPTIONS

Rotating hand chain guide.
Stainless steel hand chains.
Buffers
Corrosion resistant version
Explosion protection
Locking device to secure the trolley in position on the beam (park position e.g. on ships).