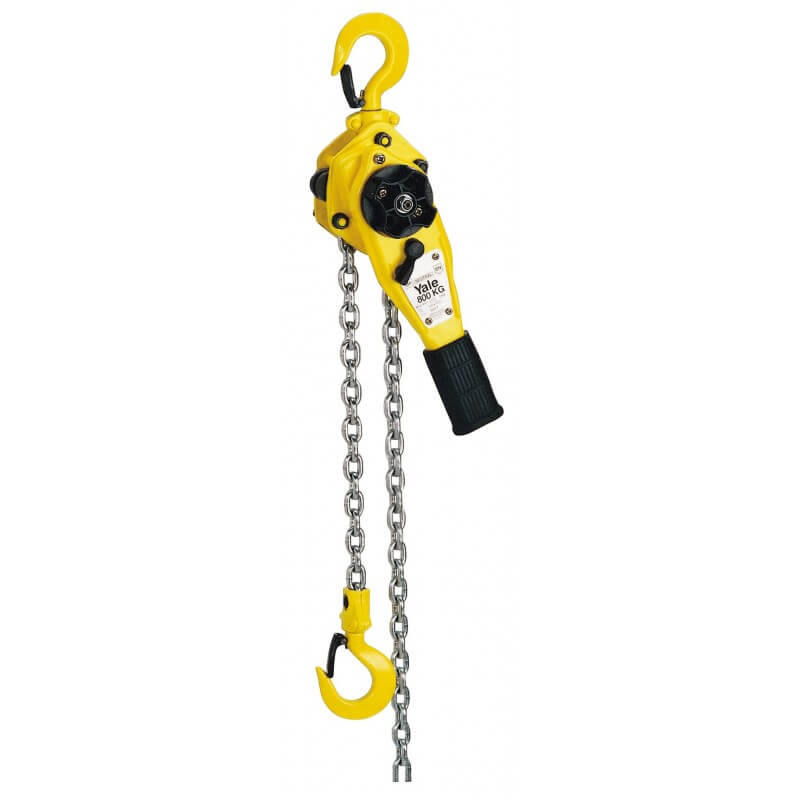 Yale Ratchet Lever Hoist (Model PT) 800-6,300KG
Product No. PT 800-1.5
Regular price
$320.00

excl. $73.60 VAT
$393.60

incl. $73.60 VAT
Unit price
per
Shipping calculator

Please enter correct zip code
Payment methods
Product details

Ratchet Lever Hoist (Model PT)

Ratchet Lever Hoists are also known as lever hoists, come alongs or lever blocks. They can be used for vertical and horizontal movements like pulling, dragging, stretching and positioning loads across industries by operating the lever/handle with one hand.

The PT lever hoist is a universal design for an array of applications. Pressed steel housing provides an extremely low weight hoist.

Ratchet lever hoists model PT features improved techniques and ergonomic styling. The advantages of the predecessor range have been maintained and further optimized. A good, versatile, all-round ratchet lever hoist for demanding conditions. The range of capacity is from 800kg to 6300kg.

Britain's No. 1 Name for Lifting - YALE

Yale is a global brand of Columbus McKinnon (CM). The Yale name is synonymous with quality hoisting equipment and has been since 1877 when Linus Yale, Jr. produced the first spur geared hand chain hoist with the Weston Screw Brake. Today, nearly 145 years on, Yale still leads the industry with new and innovative products, making their hoists and lifting equipment the no.1 choice in the UK and globally recognized.




Technical Data - Manual Hoist Guide (Lever Hoist vs Chain Hoist)

---

FEATURES

The proven stamped steel housing provides extremely low weight without limiting the reliability and sturdiness of the unit.
The shorthand lever is fitted with an ergonomic rubber grip.
Standard free chaining device to quickly attach the load or to pull the chain through the hoist in both directions.
Alloyed steel link chain with zinc-plated resp. yellow chromate finish, in accordance with national and international standards and regulations.
Drop forged suspension and load hooks are made from non-ageing, high tensile steel and fitted with robust safety latches.

DETAILS


Items often needed to operate a lever hoist:




- Suspension: It can be suspended in a fixed location with a 

Beam Clamp

 or from a 

Push Trolley

/

Geared Trolley

 with its top hook.




- Load Attachment: The lower hook can directly attach a load but quite commonly a 

lifting sling

 is used to secure a load onto the hook (in conjunction with 

shackles

 sometimes)  

Yale hoists and trolleys are not designed for passenger elevation applications and must not be used for this purpose.
All ratchet lever hoists with a capacity exceeding 750 kg can be used for load attachment according to EN 12195.