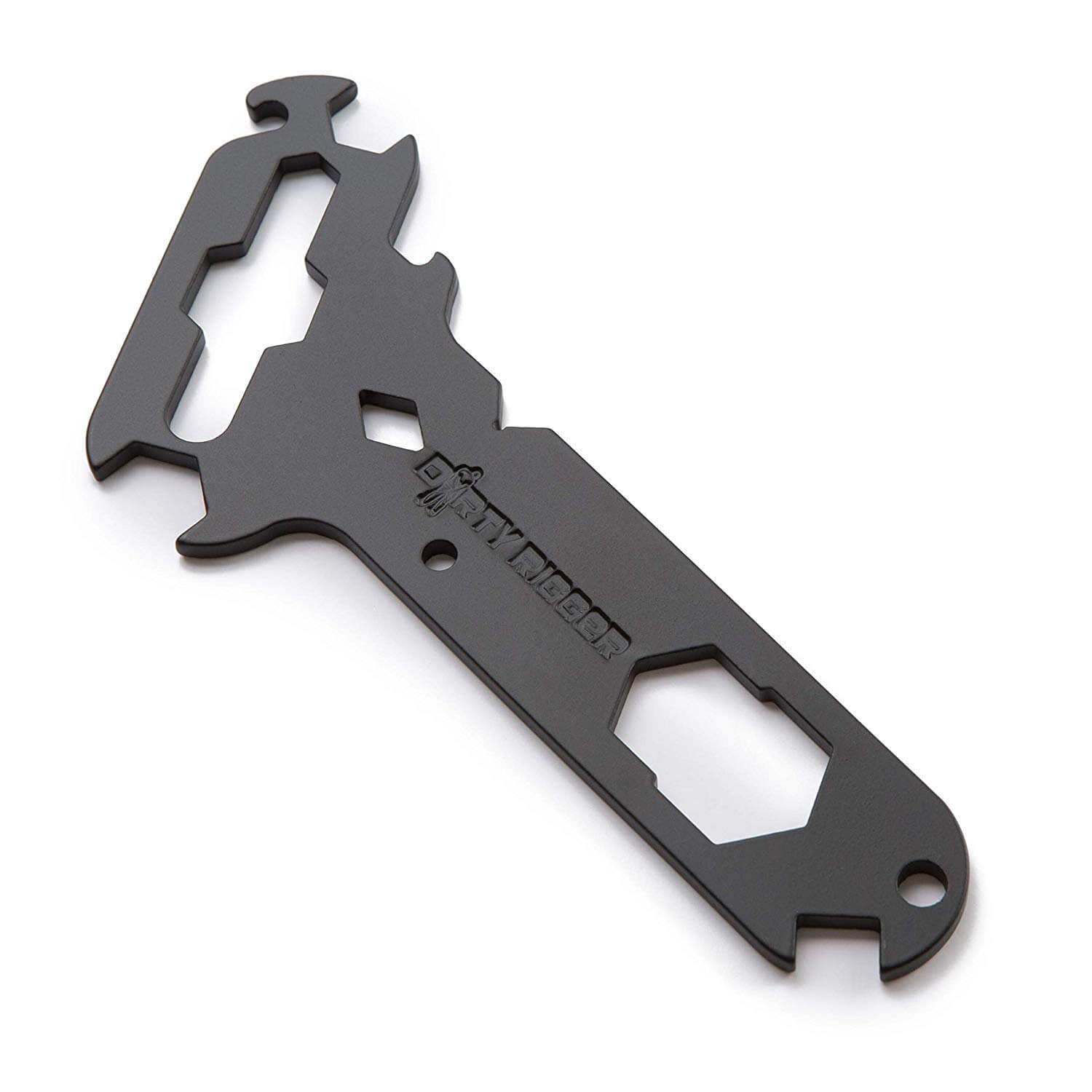 Dirty Rigger Multi Tool
Product No. DTY-MULTITOOL
Regular price
$21.00

excl. $4.83 VAT
$25.83

incl. $4.83 VAT
Unit price
per
Shipping calculator

Please enter correct zip code
Payment methods
Product details

Dirty Rigger Multi Tool - 

14 Tools in One Hand

Condense your bag of tools with the Dirty Rigger Multi-Tool. This multi-tool from Dirty Rigger is purpose-built with entertainment riggers in mind - simple, yet extremely effective and indispensable. 14 separate tools are instantly available with this one tool, each of which has been designed around some of the most common needs in the professional rigging industry. Our stage crew has never left this Dirty Rigger Multi Tool out of the toolbox!

The Rigger's Multi-Tool is cut from 4mm hardened steel, making it one of the toughest multi-tools of its kind on the market. 

---

Features and Benefits

14-in-1 Tool: Compared to the 7-in-1 and 11-in-1 rigger tools on the market, Dirty Rigger multi tool is an all-rounder to 

cover the needs of those working with stage lighting equipment specifically for securing wingnuts and associated clamps.

 Here is a list of the 14 tools: 


✔

3/8″(9.5mm), 1/2″(12.7mm), 3/4″(19mm) nut tools


✔

18mm (M10), 20mm (M12), 24mm (M14) nut tools


✔ 

7mm (M6) square nut tool


✔ 

4mm and 6mm eyelets


✔ 

Wingnut tool


✔ 

Wire Stripper (x2) for removing the protective coating of an electric wire to replace or repair the wire


✔ 

Barn door tool


A barn door is a wide sliding door as a room divider to close off large spaces




✔ 

Bottle opener
With a small eyelet:

 

for attaching a

 

tool lanyard

 

to secure the tool close to you all the time 

even when you accidentally drop it

A lightweight rigging tool for stage lighting technicians, riggers, stagehands

Ideal for stage work, live events industry, theatre and more

Specifications: 

Weight: 154 g
Dimensions: 13cm x 0.4cm x 14 cm
Material: Hardened Steel
Finish: black matte powder coating.

MTN Expert Tip:


 
does what i need it to when i need it to
It's a great tool handy to have Soon to become one of the most used items in my pouch the bottle opener is a nice too!!