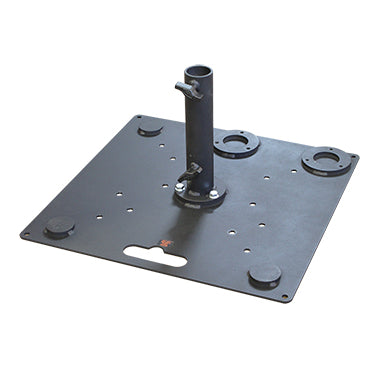 Doughty 3 Position Tank Trap
Product No. T54265
*IMPORTANT NOTE* - All Doughty products are shipped from the UK. We will cover all customs charges on your delivery in advance so no extra payment is needed from you. We require a minimum order value of €50 for all Doughty products.
Please note if you order less than €50 worth of Doughty products, your order will be refunded.
Regular price
$258.00

excl. $59.34 VAT
$317.34

incl. $59.34 VAT
Unit price
per
Shipping calculator

Please enter correct zip code
Payment methods
Product details

Out of Stock until January/February 2022

---

Doughty 3 Position Tank Trap - Highly Versatile Boom Base

Award-winning Boom Base
The 3 position Doughty Tank Trap was awarded the ABTT Engineering Product of the Year Award in 2017. Its great flexibility allows you to build the rigging everywhere, even near an obstruction, making this boom base favorable in the industry since the launch. 

To Support 3 Poles for Suspending Lanterns
It is a multipurpose floor plate to suit and secure 48mm diameter barrel, pole or truss vertically. Up to three barrels can be installed onto one boom base via the detachable receivers in the center, at the edge or in the corner of the plate. The barrel(s) can then be used to suspend loads. These loads can be, but not limited to, lighting fixtures, video projectors, sound systems, and set pieces. This tank trap can be used as a standalone system or as a part of a larger installation.

 

To Support Various Sizes of Truss for Suspending
With the receiver removed the plate may be inverted and used as a base plate to suit various sizes of the truss. It does not include truss connectors or fixings to mount truss to the plate. Broadly used in the entertainment industry in places such as theatres, event venues, museums etc. They can be easily transported and stored by Tank Trap Dolly. Read more about the Doughty Tank Traps on our MTN Shop Blog. For any inquiries, please contact us via chat.

---

Features & Benefits:

An Award-winning Boom Base recognized by industry peers
Highly Versatile: With 3 Position Doughty Tank Traps, you don't need to buy different boom bases to suit your setup, saving your money and time.
- Support up to 3 barrels that are perfectly used to suspend loads, e.g. lighting fixtures, video projectors, sound systems, and set pieces
- Support various sizes of truss for suspending
Used individually or as part of a larger installation suitable for almost every setup
Compact stacking for easy transport and storage.

Specifications:

Boom Base Dimension: 600mm x 600mm
Receiver with 2 knobs: 
- Securely fits 48mm diameter aluminum barrel or galvanized scaffold pole by tightening 2 knobs [Hand-tighten Only].
- 3 receiver positions are available, indicated as red in the product image.
(Note: Tank traps are supplied with one barrel receiver. Extra receivers can be purchased from us)
Truss Fixings: 12 x 13.5mm diameter holes on the plate for truss mounting 
(Note: When used as a truss base-plate, the plate has to be inverted)

Choosing a selection results in a full page refresh.
Opens in a new window.