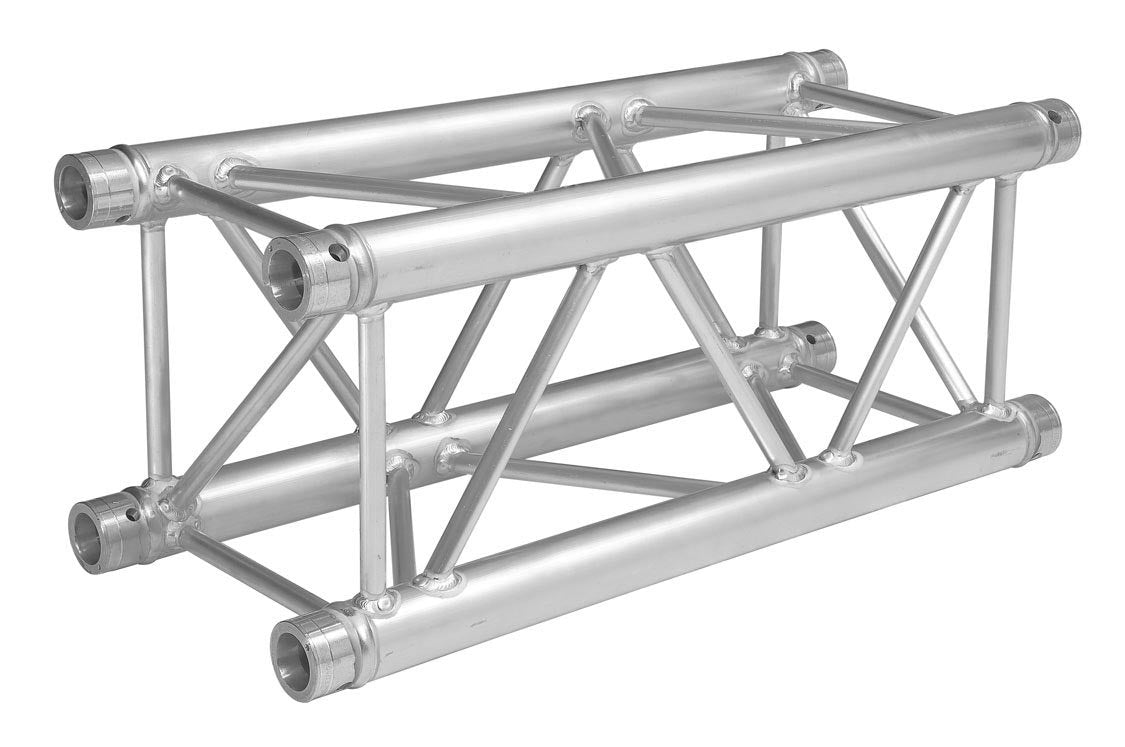 Prolyte X30V Square Truss
Product No. X30V-L025
Shipping calculator

Please enter correct zip code
Payment methods
Product details

Prolyte X30V

X30 truss is constructed of main tubes (51 x 2 mm) and diagonals (16 x 2 mm). Equipped with the CCS6 conical coupling system, the X30 truss is fast and easy to assemble. It can be found in rental fleets all over the globe. Its low volume and flexible application possibilities make it the ideal truss for exhibitions and low-intensity rental jobs. 

This series is also available in ladder and triangular profiles and a range of corners and accessories. The Prolyte X30V square truss is available in lengths of 0.25 meters up to 5 meters. 

The following example is one of the Prolyte X30V applications. This spectacular structure was built with about 170 straight trusses and over 40 corners and special parts. In total, almost 400 meters of truss was used. For any inquiries, please contact us via chat.

A gold-coloured truss structure at the main lobby
of Scandic Airport with Prolyte X30V

 

LOADING TABLE

Span

Maximum Uniformly Distributed Load
Maximum Centre Point Load
Length (m)
Total Weight (kg)
Load (kg/m)
Deflection (mm)
Load (kg/m)
Deflection (mm)
3
15.3
650
10
1215
8
6
30.6
253.5
41
671.5
33
9
45.9
110.1
92
456.2
73
12
61.2
59.9
163
338.4
131
15
76.5
36.7
255
262.7
204

 Download full loading table - User Manual - TUV Certificate

Features:

Tüv certification

4-point noding

Cross Bracing

Fast and easy assembly

Lightweight system

Worldwide availability

Versatile application

Specifications:

Alloy: EN AW 6082 T6

Main Tubes: 51 x 2 mm

Braces:16 x 2 mm

Coupling System: CCS6

Dimensions: 239 mm (W) x 239 mm (H) (Centre to Centre) & 290 mm (W) x 290 mm (H) (Connection Outside)


For extra technical information and practical tips, please browse Prolyte Black Book.
NOTE: IN-STOCK PRODUCTS WILL SHIP WITHIN 3 BUSINESS DAYS; SOME PRODUCTS MAY TAKE LONGER

Perfect for when you carry it by hand
Only 5 kg/m so you can easily carry a 4 m piece on your shoulder.
Last many, many times, no rackle even after years of intense use.
Doesnt buckle.
Marked spigots so you dont mix them with other brands.
Fit the H30V system.
Scaff clamps will not fit as tubes are 51 mm.
You cant smash it with the fork lift as tube walls are only 2 mm so not for hard core touring or the violent crew.
Choosing a selection results in a full page refresh.
Opens in a new window.