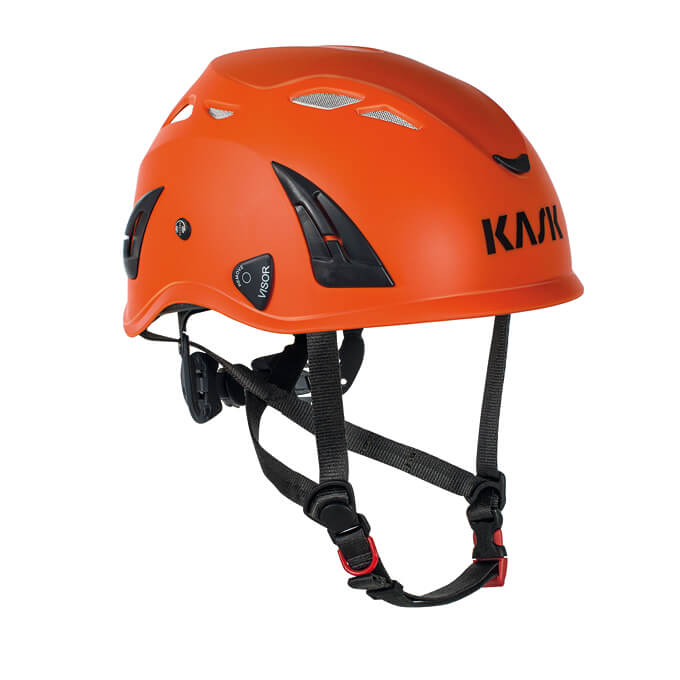 Kask Super Plasma Helmet PL
Product No. KAAHE00005-203
Regular price
$71.00

excl. $16.33 VAT
$87.33

incl. $16.33 VAT
Unit price
per
Shipping calculator

Please enter correct zip code
Payment methods
Product details

KASK Super Plasma Helmet PL

Compliant for EN 12492, the KASK Super Plasma Helmet is designed specifically for work-at-height applications. The Kask hard hat is streamlined for maximum comfort, safety and adaptability.

A High Level of Protection: The outer shell is made to withstand significant impact from above as well as from the sides. 4 fastening points of the helmet's chinstrap reduce the risk of helmet loss.

Low Weight & Comfort: 10 air vents offer efficient cooling and ventilation while keeping debris away with an anti-intrusion mesh grid finish. Being 10% lighter than other safety helmets, you might even forget you're wearing it!

Ideal for Rope Access Technicians: Kask Plasma Helmet offers professionals excellent adaptability for any work-at-height applications due to a range of accessories available e.g. visors, earmuffs, lamp clips, pads and neck shades. 

For any inquiries, please contact us via Chat.

 

• Air Grid - 10 Air intakes are equipped with an anti-intrusion grille, prevents the entry of debris whilst maintaining breathability

• Earmuffs Fitting - Provided with bayonet socket adapter for earmuffs

• Lamp Clips - Strong nylon external lamp carrying clips; compatible with all headlamps with elastic bands on the market

• Ring to Hook - Fitted with a special loop on the chin strap which allows the helmet to be connected to the harness

• 2Dry - This high-tech and maximum comfort fabric dry very quickly, encouraging the expansion and dispersion of moisture to the outside and leaving a pleasant feeling of freshness.

• Padding - Removable and washable inner padding

• Up & Down System-  This innovative technology ensures a precise and comfortable fit around the neck. A centre wheel and two side flaps allow quick adjustment of the helmet not only in width but also in height and tilt.

• Chinstrap EN12492 - Four point chinstrap with Quick release fastening and opening in conformity with EN 12492. Provided with lateral divider for adjusting the length of the straps.

• Visor Attachment

• Outer Shell: PP Polypropylene

• Inner Shell: HD Polystyrene

• Headband: Soft PA Nylon headband

• Size Universal: Adjustable 51 - 62 cm

• Weight: 420 g

• Colour: Orange & Black

• Standard: EN 12492




Kask Super Plasma Accessories

Are you also looking for a visor, neck shade or other accessories for your Kask hard hat?
We stock a wide variety of Super Plasma accessories including visors, earmuffs, neck shades, accessory adaptors, paddings, and more to offer unique adaptability to the worker's needs. Discover the full list of KASK Super Plasma accessories now by clicking the images.

V I S O R S

 

KASK Super Plasma Visor - V2 Clear
KASK

Super 

Plasma

 

Visor - V2

 Smoke

KASK

Super 

Plasma

 

Visor - V2

 Silver Mirror

KASK

Super 

Plasma

 

Visor - Screw Set Only

KASK

Super 

Plasma

 

Visor - V2

 Plus 

Clear
KASK

Super 

Plasma

 

Visor - V2 Plus

 Smoke

KASK

Super 

Plasma

 

Visor - V2

 Plus Silver Mirror

KASK

Super 

Plasma

 

Visor - Full Face

 

Clear
KASK

Super 

Plasma

 

Visor -

Full Face

 Smoke

KASK

Super 

Plasma

 

Visor -

Full Face

 Silver Mirror

E A R M U F F S

KASK Helmet Ear Muffs - SC1 Green
KASK Helmet

 

Ear Muffs - SC2 Orange
KASK Helmet

 

Ear Muffs - SC3 Yellow


(To install ear muffs to Plasma Helmets)

N E C K S H A D E S

KASK

Super 

Plasma Neck Shades - Grey
KASK

Super 

Plasma Neck Shades - Hi-Viz (Orange)

O T H E R S

KASK Inner Padding - Plasma AQ
KASK Inner Padding - Plasma Hi-Viz

 

How to Install Visor & Earmuff Adapter to KASK Super Plasma Helmet?

 

Kask Zenith VS Super Plasma




KASK Plasma VS Super Plasma

While Plasma and Super Plasma helmets are compatible with the same kinds of helmet accessories like V2 Visors, V2 Plus Visors and KASK earmuffs, they are different in some ways - product weight, helmet standard and use. 

Product Weight: Super Plasma weighs 420g while Plasma weighs 390g
Standard:
- The Super Plasma is an EN 12492 helmet i.e. mountaineering helmet that the chinstrap strength is greater, securing the helmet in place in an event of a fall when working at height. When a force of 50kg is applied, the high-strength chinstrap is able to

 retain the helmet on the head of a climber

.
- The Plasma is an industrial safety helmet, certified according to EN 397. The deliberately breakable chinstrap releases at minimum 150N and maximum 250N, causing the helmet to come off to avoid strangulation. It causes less harm to users who work near/on the ground level when they fall and become caught up by the helmet.
Use:
- Super Plasma helmets are ideal for tower climbing, rope access, high-rise construction, mountaineering, etc
- Plasma helmets are ideal for industrial, foundry work, low-rise construction, etc
Great helmet
I always hated wearing the standard offshore safty helmet. Not any more with my new kask plasma it is actually comfortable and doesn't fall off my head.
Thank you for your review, Peter!
Great Helmet
It's a great helmet very comfortable to wear and feels well balanced on my head . It could use some additional vents
Protect your skull!
Very comfortable lightweight...