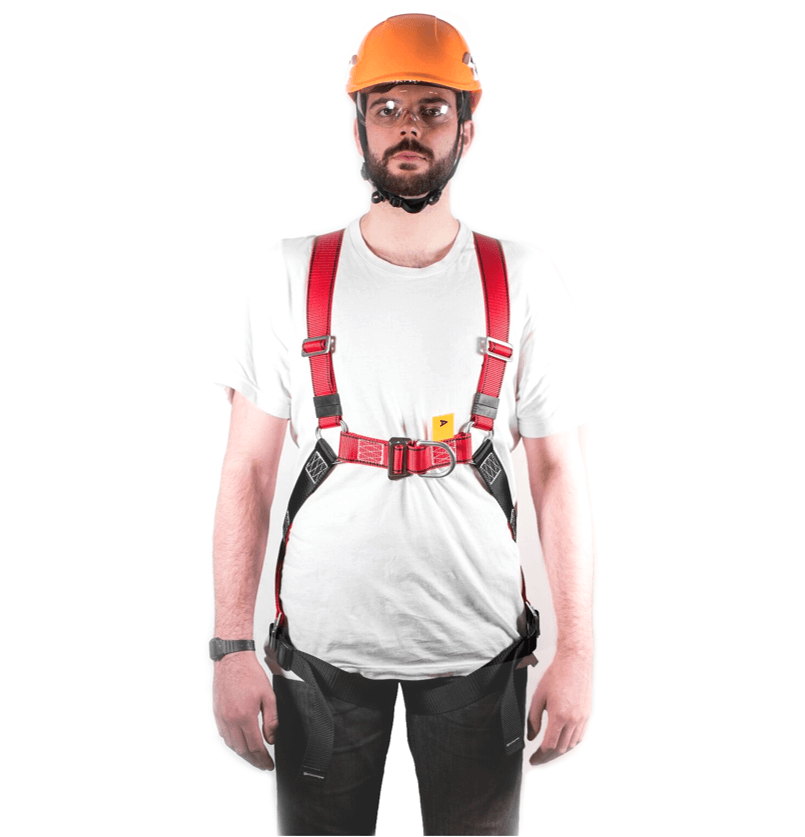 Fall Arrest Harness with 2 Anchorage Points
Product No. jones (mtn001)
Regular price
$57.00

excl. $13.11 VAT
$70.11

incl. $13.11 VAT
Unit price
per
Shipping calculator

Please enter correct zip code
Payment methods
Product details

EN361 Compliant Fall Arrest Harness - Frontal & Dorsal Anchorage Points

This product is a basic 2-point fall arrest harness, compliant with the full-body harness standard EN 361 that states a full-body harness is the only acceptable body holding device that can be used in a fall arrest system. 


It provides comfort and confidence, and directly affects the wearer's productivity, as well as gives them the flexibility to do what needs to be done when working at height. 

Fast and International Delivery! For any inquiries, please contact us via Chat.

---

Features & Specifications:

Universal size that will 

fit anyone from a size M-XL

Compliant with EN 361
Comfortable to wear in most applications
Low profile with no bulky or loose parts
Easy-open, two-part buckles for legs and body
Fully adjustable fit
Attachment D-rings: Frontal and Dorsal Anchorage points for attaching a fall arrest system (e.g. energy absorbing lanyard).
Webbing: Polyester / Polyamide; 44mm wide; Sewn and connected by metal buckles
Buckles: For comfort wearing and using of harness
''A'' Tag: The fall arrest system must be connected only to the attaching points of a harness marked by the capital letter ''A'', i.e. the frontal and dorsal attachment points for this harness.
Standard: CE0082 and EN361:2002 –PPE against falls from a height –full-body harnesses

For the details of full-body harness parts, please refer to the thumbnail.

---

How to Wear Safety Harness?

Take the fall arrest body harness by the dorsal (back) attachment D-ring:
- All buckles have to be disconnected before putting it on
- It's important to inspect your harness before each work.
Head over to the ''FAQ'' section to learn more how to carry out a proper inspection.

Slip the harness on your shoulders:
- The shoulder straps should be put on one after one like wearing an open vest. (A reminder: Don't twist them) 
- The D-ring should be between your shoulder blades. 

Connect the chest strap buckle:
- Adjust the tension of the chest strap by pulling the strap to make sure there is no slack.
- Make sure the loose ends of the straps are tucked into the strap retainers.

Pull each thigh strap up:
- Pull the thigh straps through the crotch and fasten the buckles together (A reminder: Don't twist them)
- Eliminate any slack that may be left.
- With your hand held flat, you should be able to fit your fingers underneath your leg straps.

---

FAQs about fall arrest harness

1. How to wash a safety harness?

• Wash harnesses in lukewarm soapy water (ph-neutral, 30 °C maximum), then rinse thoroughly with fresh tap water. (✓ Household Face & Body Soap; ✘Laundry Detergent, ✘Solvents, ✘Stain Removers, ✘Degreasers)

• Hang harnesses on a line to dry.

• You can wash your harness in a washing machine. Choose the 30 °C delicate synthetic setting, without a spin cycle. Wash the harness inside a thick cloth bag

2. How often do safety harnesses need to be inspected

The British Standard suggests inspecting personal protective equipment at least every 12 months while some manufacturers recommend a more frequent inspection, especially when the equipment is used in a harsh environment. The inspection has to be carried out by competent personnel. HSE's guideline document includes examples of defects and damage for reference. To learn more about how to inspect a safety harness, please refer to the Safety Harness Inspection Checklist. 

One important thing to note is full-body harnesses exposed to a fall arrest should be removed from service and replaced immediately.

3. When is a fall arrest system required?

OSHA requires fall protection to be provided at elevations of 4' in general industry workplaces. While fall restraint is a preferred fall protection method as it eliminates the fall hazard, a fall arrest system is required in the situation where fall restraint is not practicable. For example, it is usually applied when people are working near a fragile surface, narrow ledge or unusual building or roof shape and are using lanyards or a rope.
Choosing a selection results in a full page refresh.
Opens in a new window.