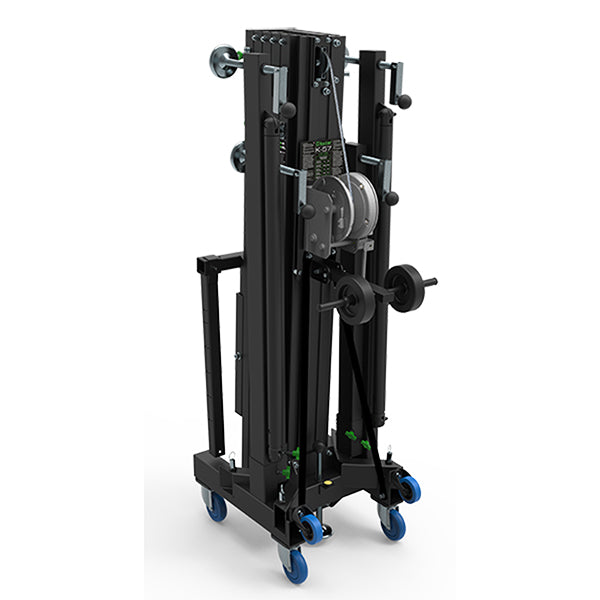 Kuzar Tower Lift K-57
Product No. K-57
Regular price
$4,054.00

excl. $932.42 VAT
$4,986.42

incl. $932.42 VAT
Unit price
per
Shipping calculator

Please enter correct zip code
Payment methods
Product details

The K-57, is our newest and most powerful lifter.

Weighing only 492lbs it is capable of lifting 1102lbs to a height of 23' in dynamic mode and a massive 2646lbs if used in structural mode. Structural mode is when the lifter is cranked up to the desired height without anything except a manual/electric hoist attached to the forks and then the load is elevated by the hoist.

 


The K-57 is comprised of 5 aluminum profile sections with integrated 'KAT' Kuzar Automatic Triggers for greater security, eye bolts are also included on each section so that the lift can be secured at any height. The steel base is mounted on 4 swivel castors and 2 rear castors together with a central wheel are included as standard so that the lifter can be transported either vertically or horizontally.

A special cable guide has been designed for smoother cable movement on the winch drum with the whole tower being designed and certified in accordance with the new DGUV 17 directive.

Data Sheet & User Manual & Cert

Features:

Cable:

 

Anti-torsion & Anti-corrosion. 6mm diameter. Steel DIN 3060. 
Winch:

 

Certified with an automatic brake a long handle
Wheels:

 

Make transportation easier 
Anti-rust protection priming paint bathed black steel, covered with cured polyester dust
Kuzar Automatic Trigger (KAT)

 

on each section which automatically slots into the sections during elevation, locking them in place. 'Block' position and 'Lift' position are featured.
Adjustable stabilizer plates in the legs with nonslip rubber base support
Made in Spain

Specifications:

Folded Height:

 

1.9m (6.23')
Maximum Height:

 

7 m (23')
Maximum Load (Dynamic Mode):

 

500kg (1102 lbs)
Maximum Load (Structural Mode):

 

1200kg (2646 lbs)
Weight:

 

223kg (492lbs)
Work Surface:

 

2.34m x 2.25m (7.7' x 7.4')

Why Kuzar K-57?

As a viable and affordable alternative to many line array lifts, the Kuzar K-57, made in Spain, is a high-quality lifter that is virtually invisible to audiences thanks to its black anodized finish that blends in perfectly backstage.

The lifter with built-in safety features is easy to transport and set up, making your theatrical productions and entertainment events safe and highly effective. Look no further than K-57 if you are looking for a great and economical tower lift.


You can also check the full range of our tower lifters here.Important Warranty Information

WARRANTY. All Kuzar lifts come with 2 years warranty. This warranty period is from the date of purchase. Kuzar will repair any defect product caused by either faulty materials or poor workmanship free of charge within this period as long as the parts are fitted by an authorized Kuzar dealer. Should the product have been manipulated in any way or a repair attempted by an unauthorized dealer the warranty will be invalid. This warranty does not cover damage occurred by improper use.