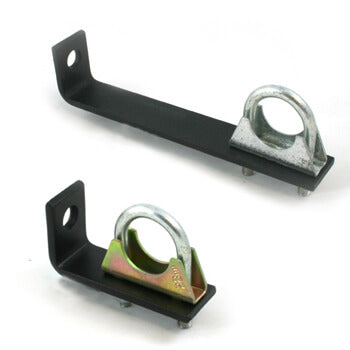 Doughty SixTrack Stage Curtain System - Adjustable Support Bracket
Product No. T63750
*IMPORTANT NOTE* - All Doughty products are shipped from the UK. We will cover all customs charges on your delivery in advance so no extra payment is needed from you. We require a minimum order value of €50 for all Doughty products.
Please note if you order less than €50 worth of Doughty products, your order will be refunded.
Regular price
$10.00

excl. $2.30 VAT
$12.30

incl. $2.30 VAT
Unit price
per
Shipping calculator

Please enter correct zip code
Payment methods
Product details

Doughty Adjustable Support Bracket for Stage Curtain Track

Six Track is suspended from its top rail using Adjustable Support Brackets and M12 Studding. Up to 100mm of adjustment can be achieved by using the Adjustable Support Bracket and two Lock Nuts on M12 Studding (Shown in the Spec Sheet). Short Support Brackets can be used where space is limited. They offer minimal adjustment.

The maximum distance between track supports is approximately 2.25m for open cloth and approximately 1.60m for bunched cloth. More details can be referred to the spec sheet and user manual. For any inquiries, please contact us via chat.