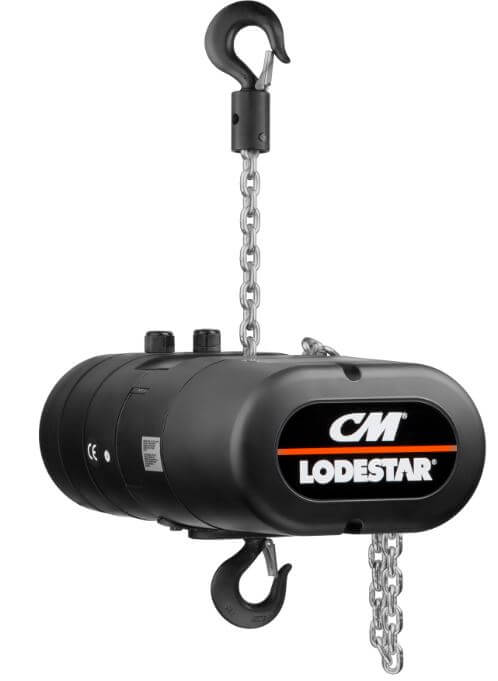 CM Lodestar- Model L Hoist D8 1000kg - Single Brake
Product No. A3194NH - MODEL L
Shipping calculator

Please enter correct zip code
Payment methods
Product details

CM Lodestar Hoist - Solution for Entertainment Industry

Columbus McKinnon Entertainment Technology (CM-ET) is the industry leader in providing quality lifting and positioning equipment for professional riggers around the globe. CM-ET spotlights the unique needs of theatre riggers and designers.

The superior design of the CM Lodestar electric chain hoist keeps getting better! The CM Lodestar Next Gen Style hoist delivers all of the great qualities of the Classic Style hoist with additional features, enhancing steady operation and smoother lifting. The Lodestar brand is world-renowned for its reliability and performance over the past 3 decades. CM's drive to innovate the market, along with valuable customer feedback has lead to the Next-Gen Style Lodestar.

Some of the CM Lodestar Next Gen Style's new and improved features include:
• Quieter operation at only 72 dB due to precision helical gearing
• Environmentally-conscious design
• More convenient access to components
• Higher duty cycles
• Less maintenance
• Enhanced safety

Besides 1000 KG (Single Brake), other configurations are available namely D8 1000KG (Double Brake), D8 500KG (Single Brake / Double Brake) and D8 2000KG (Single Brake / Double Brake).



Effective Cable Management with the MTN Chain Slider

We also supply MTN Chain Sliders that provides a clean solution when using electric chain hoists such as CM Lodestar Hoist D8. The more moving parts that are involved on stage or behind-the-scenes, the bigger issue cable mismanagement becomes. MTN Chain Sliders can address cable tangling that leads to damaged equipment, as well as an unsafe work environment. Besides, a great-quality chain container/chain bag contributes to a safe rigging workplace as lifting hazards caused by the slack chain can be reduced.

Video: How to use MTN Chain Slider that promotes effective cable management on the stage.

Mountain Productions' own shop has worked on and used the CM Lodestar Next Gen Style hoist for years. Our Level 2 CM Certified rigging staff represents a wealth of CM product and technical knowledge and inspects each hoist prior to shipment. We're experienced in the extensive Lodestar family and can provide the exact specifications that you require in your hoist. 

 

Specifications & Features of CM Lodestar Hoist

• Capacity: 1 Ton

• Safety Factor: 5:1

• Lift: 18m / 25m / 40m

• Speed: 4.06 m/min / 8.12 m/min

• Voltage: 400V 3 Phase, 50 Hz

• Dimensions: Refer to the thumbnail

• Low Voltage Control - 110 Volt for long cable runs without voltage drop. 24 & 48 Volt optional (Low voltage unit only)

• Available as a Direct Control Unit - features a single cable. The direct control unit can be used as part of a system with multiple units with a single control. The Lodestar is compatible with most direct control motor controllers.

• Low headroom and compact hoist designs can accommodate the smallest of theatres.

• Durable and lightweight housing - cast aluminum, black powder coated finish for low visibility

• Heavy-Duty DC Brake: designed for long service life, the brake location allows for quick access and easy inspection.

• 5 Pocket Liftwheel - increases chain and lift wheel engagement while providing smoother lifting, less vibration and reduced chain wear when properly maintained.

• Clutch outside gear train - meets international standards

• Precision helical gearing - for quieter operation

• Redesigned control panel - for easier access and fuse installation 

• Adjustable limit switch - automatically stop the hook at any predetermined point when either lifting or lowering, preventing overtravel. (Low Voltage Unit Only)

• Overload protector - prevents lifting of excessive overloads and helps prevent lifting of dangerous overloads

• Zinc-plated load chain designed and manufactured by Columbus McKinnon to protect against corrosion

• Duty Cycle - H-4 duty rated for heavy-duty application. 2M FEM class. 50% Duty Cycle or 300 on/off per hour

• Standards - Meets or exceeds requirements and world standards

• Metric rated

• Lifetime warranty



Lodestar Hoist Types: Direct Control vs Low Voltage

CM Lodestar Hoists are available as a direct control unit and low voltage unit.

Direct-control hoists are more simple to operate and to work on. They only have a CEE (Certification of Electrotechnical Equipment) connector for power. The wiring is less complicated than low-voltage units.

These hoists generally do not have limit switches and are less expensive than standard low voltage controlled hoists.

Low-voltage controlled hoists have a low voltage control circuit which incorporates a transformer, reversing contactors, etc. They generally have a CEE connector for mains and a CEE connector for the controls. Low voltage hoists generally have more complex wiring and have limit switches

 

Other CM Hoists & Rigging Products for Theatres

CM Prostar electric chain hoists are designed and built for the unique needs encountered in small theatres. Multi-pocket lift wheels offer quiet operation, while the ultra-lightweight aluminium housings make these units portable and easy to install.


• CM Lodestar Hoist D8+ 650 KG / 1000 KG

The CM Lodestar D8+ electric chain hoist meets all Standard SR2.0 requirements. It features double brakes and a clutch outside the load path that acts as an overload device. Its 10:1 design factor (rather than 5:1 in D8 models) allows the Lodestar D8+ to be used for suspending loads above people without secondary support.

• CM Rigging Hardware such as CM beam clamps, CM load chain and CM Special Theatrical Alloy Chain (Grade 80)

 

CM Lodestar Next Gen Video (English)

 

Product Literature

Free Inspection Courses by CM

FAQ by Professionals in the Industry


1. How can I tell how much load the hoist is picking up?

There are three common ways:

1. Calculate the weight based on the information given by the manufacturers of the equipment you are lifting. This is fine if the calculated loads are way below the capacity of the hoist, but is not the most reliable method you can use.

2. Use a dynamometer to actually weigh the point.

3. Use load cells that can be remotely read on a computer.

2. Does the design factor stay the same during the entire life of the hoist?

No. A chain hoist is a machine that has moving parts that are subject to wear. Beyond the wear factor, excessive handling and subsequent abuse lead to physical damage that can significantly affect the ultimate strength.

3. How often do I have to inspect my Lodestar Hoists?

CM recommends that if the hoists are used for rental, then they have to be inspected after each rental. If they are used for a tour, they should be serviced at the end of the tour or a minimum once a year. They also recommend keeping written records by serial number every time you inspect and/or do any maintenance work on your hoists.

4. Any Lodestar Hoist training program is provided at MTN SHOP?

We provide CM-ET Online Lodestar Maintenance Training Program that includes all of the information provided at CM's 1-Day motor classes to help familiarise entertainment technicians and riggers on the safe and proper general maintenance and repair of the CM Lodestar.

Upon successful completion of the testing, participants will be emailed a Certificate of Training and Certified ETCP Technicians can earn 4 renewal credits for taking this course.