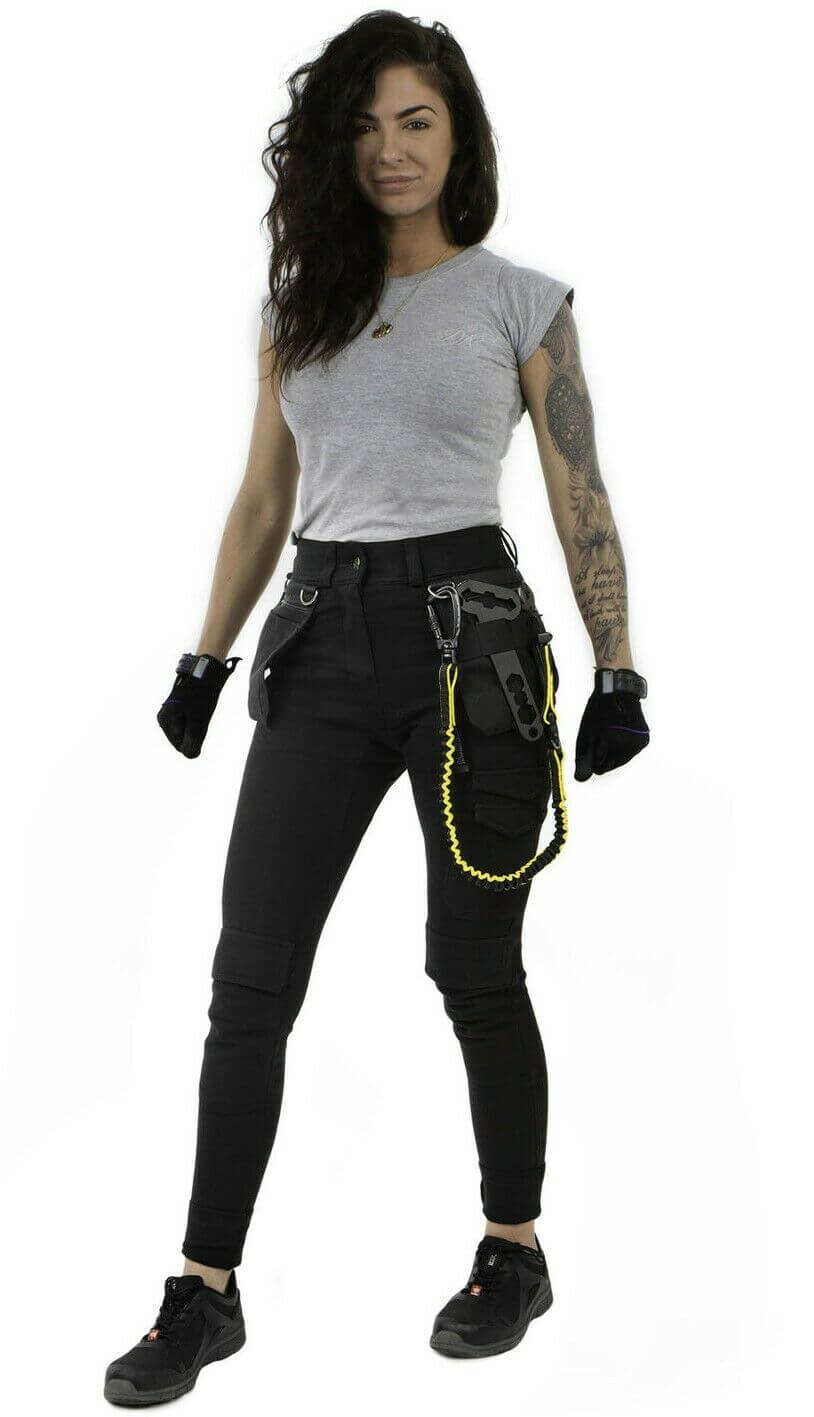 Dirty Rigger Ladies Work Trousers with Knee Pads & Pockets
Product No. Out of Stock until Early 2022
Regular price
$70.00

excl. $16.10 VAT
$86.10

incl. $16.10 VAT
Unit price
per
Shipping calculator

Please enter correct zip code
Payment methods
Product details

Browse our Women's Trousers Collection

Ladies Work Trousers with Knee Pads Designed with Female Riggers in Mind

We have become increasingly aware of the lack of proper workwear on the growing female-rigger market and are pleased to finally launch the award-winning Dirty Rigger Ladies Work Trousers. 

Highly recommended by female stagehands, riggers, technicians and roadies, these high waisted black work trousers feature a slim-fitting, reinforced design with increased movement and pockets. This is a revolution in women's workwear. Be it bending, climbing, crawling around on stage or building a stage fly system, these are must-have for women.

Size Guide (inch & cm) -  Dirty Rigger Ladies Workwear Trousers Facebook Group

---

Best-selling Ladies Work Trousers with Knee Pads & Pockets

--Enhance Your Feminine Figure--

Phenomenally Comfortable
• Stretchy cotton trousers for exceptional freedom of movement & all-day comfort.
• Designed for those who use a harness while wearing them.

Built to Last
• Reinforced crotch and thighs as well as many sturdy and functional pockets to ensure durability and longevity
• Developed after extensive research and development

Pockets & Waist Mounted D-rings
• Pockets: Reinforced to carry tools.
• D-ring: For keys and tool lanyard attachments

Comfortable Knee Pads
5mm removable padded foam included providing extra comfort on a daily basis on the job.

Thick Elasticated Waist Belt with Loops

Multi-Pocket Work Trousers

--A Variety of Zipping, Hook & Loop Closures--

• 2 x Nail / Holster Pockets on both sides : Elasticated loops on right pocket for secure and easy access of tools e.g. Multi-Tool, Podger
• 2 x Front Pockets on both sides, hidden by nail pockets : Large and deep enough to accommodate common industry-specific tools
• 2 x Back Pockets* with a bellow: When you bend down, the tools inside the pocket will stay away from the body, offering good freedom of movement.
• 3 x Leg Pockets with different sizes: The smallest one is a pen pocket (See the image)
*NOTE: Poppers on back of flappy pockets with adjacent poppers on the outer leg to fix pockets to leg if desired

 

Go Above and Beyond Anything Else Offered

--Developed Based on Female Users' Feedback--

A great product for women as I've always struggled to find comfortable and fitted work trousers/shorts. The multiple pockets and tool holsters are very useful features and still comfortable with tools equipped. Knee pads were also a great feature-----

Laura

I just want you all to know that I love these pants. They fit well, I can jump around and climb and squat and move comfortably without fear that my butt crack is showing. I can fit almost anything I could possibly need for a gig in my pockets. The knee pads will be great for crawling around on the stage or convention centre floors. I am thrilled. I have told every woman I know about them. I will probably order at least two more pair. They're awesome! Thank you so much!!-----

Sarah

I've spent 17 hours a day rigging in them and they're fantastically comfy! They fit really well under my harness and don't gather up and get bulky. Also, retain all movement for climbing and they feel as flexible as my sports leggings I wear for rock climbing. I prefer them for rigging over other trousers I own because they're very close fitting and don't get caught on things and the knee pads are so slim but very effective at protecting knees from the odd bump. -----

Charlotte

---

 

FAQs About Dirty Rigger Women's Work Trousers:

What is the story behind Dirty Rigger Ladies' Workwear Trousers?

After exhibiting all over the world and listening to dozens of women who work in the arts and entertainment industry, Dirty Rigger realized the workwear trousers for women available on the market were either insulting, and not designed to fit in the right/BEST places, uncomfortable, useless for the job, or just non-existent. Their view and suggestions began the development of Dirty Rigger Women's Workwear Trousers.

What are the advantages of Dirty Rigger Women's Workwear Trousers over others?

Dirty Rigger developed the workwear based on the concept of a pair of fitted, high waisted, stretched, yoga-like trousers with multiple pockets that were desired by the majority. Their research team worked alongside the female industry specialists who tested the initial prototypes. It took 6 versions to get the workwear to the stage where a wider scoped beta programme can be implemented. The beta programme lasted for several months. All regular feedback and suggestions were carefully considered to improve the design, thereby making these trousers truly the best they could possibly be. Lately, they have won the audience innovation award.

How can I choose the right size of Dirty Rigger Trousers?

Dirty rigger provides a size guide of women's trousers in inches and centimetres with detailed instructions. 
Size Chart
Choosing a selection results in a full page refresh.
Opens in a new window.