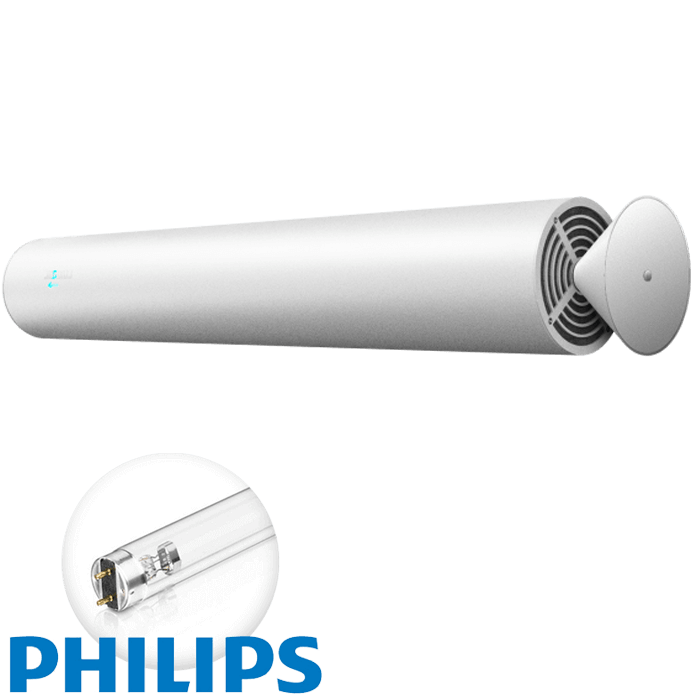 Luxibel UVC Air Disinfection - B Air V2 (up to 25 m²)
Product No. 5430001352887
To order Luxibel UVC Air Disinfection - B Air V2 (up to 25 m²), please contact a member of our team via chat or email (info@shopmtn.eu), or give us a call at +353 1 691 7930
Shipping calculator

Please enter correct zip code
Payment methods
Shipping information

To order Luxibel UVC Air Disinfection - B Air V2 (up to 25 m²), please contact a member of our team via chat or email (info@shopmtn.eu), or give us a call at +353 1 691 7930
Product details

Certified UVC Air Disinfection Unit

Lamp Lifetime: 9000 hours┋Eliminates 99% of Viruses etc┋Up to 25 m²┋Broad Application┋No Ozone Emission┋Exclusively for Air Disinfection

Manufactured in Europe with high-quality PHILIPS UVC germicidal lamp components, B AIR, unlike the direct units, can take care of 24h air disinfection in the presence of people and animals and eliminates bacteria, viruses and fungal and mould spores in the air.

The B AIR V2 comes with a B Nozzle as standard to use with Luxibel's patented Mid-Air Disinfection System (MADS).

This CERTIFIED indirect UVC air disinfection unit can be used in production halls, theatres, health care facilities, pharmacies, public transport, shops and many more.

Data Sheet & Cert - User Manual - UVC Disinfection Blog

---

Much of the indoor air we are inhaling contains things we can't see:

BACTERIA

VIRUS

MOLD

MICRO-ORGANISM

FUNGI

How Does B Air V2 UVC Sterilzer Work?

1. When we are together in a meeting room, viruses accumulate in the ambient air and on surfaces.

2. If one of the people present is infected, other people in the room run the risk of being infected.

3. The B Air V2 neutralizes harmful aerosols by cleaning the ambient air permanently.

4. The unit's fan moves air through the outer housing. As the air flows around the enclosed UVC germicidal lamp, the ambient air blown out of the room can be disinfected safely.

5. The UVC sterilizer's lamps are located in a closed ventilation duct, the unit can remain activated 24/7 without being harmful to humans.

A safe, reliable and sustainable UVC air disinfection solution

Eliminate 99% of :
Viruses, Bacteria, Fungal, Mould spores and Harmful microorganisms in the air
Long Light Source Lifetime :
9000 hours

Large Coverage : 

Up to 25 m²
Multiple Mounting Options : 

Wall, Ceiling or Tripod [A hanging bracket is supplied with 5 pre-drilled holes]
PHILIPS UV Lamps :

35 years of experience in developing and manufacturing UV-C products
A Broad-Scale of Accessories :

PHILIPS UVC lamp (TUV55W HO)

,

 

wireless controller

,

 

air filters

 

and

 

mounting arm

 

Wide Compatibility :

Offices, Meeting rooms, Theatres, Supermarkets, Factories, Retailer shops, Sport facilities, Production halls, Hospitals, Health care facilities, Pharmacies, Public transport, etc




UVC Air Disinfection Case Studies

What makes the B AIR V2 units attractive is that they can run 24/7 with people present, and they sanitize the air every 22 minutes. The B AIR V2 are also easier to install, less expensive and more effective than other units that are installed in HVAC systems. We now have one B AIR V2 unit in the dining room, another in the coffee shop and a third in the kitchen.-----

Restaurant Sociale & Burger Bar, Chicago

The IES paper that discusses the application of UVC makes it clear that for occupied spaces, a desirable solution is indirect UVC where the UVC emission is enclosed (as in the B Air V2). We have investigated several indirect UVC products on the market and determined the Luxibel UVC air sanitizer is a great value – 110W of UVC power for a reasonable cost. -----

Video Broadcast Control Room, Texas

Luxibel's approach cleans the air at a person's closest point of exposure and can run 24/7 with people in the space. It's great for venues where doesn't allow for social distancing. It is a very cost-effective and flexible device. It can be permanently installed hanging from a ceiling or mounted on rolling floor stands to easily move around offices"-----

Vero Shield, Part Of The Dodd Technologies Inc Family, Indiana




See the Luxibel B Air V2 In Action




---

Additional Information and Useful Resources

SPECIFICATIONS:

• Coverage: Up to 25m²
• Fan Capacity: 117m³/h
• Light Source: 2 x PHILIPS TUV 55W HO


• Fan Noise Level@ 1m Centre: 42dB
• IP Rating: IP20 (Dustproof)
• Power Consumption: 129W
• Power Draw: 0.369A
• Dimensions: 1150 x 180 x 235mm
• Weight: 9 kg
• Light Source Lifetime: 9000 Hours
• Wavelength: 254nm (UVC)
• Recommended uptime: 24 Hours
• Certified: 2014/35/EU (LVD recast of 2006/95/EC), 2011/65/EU + 2015/863 (ROHS), 2014/30/EU (EMC), 2012/19/EU (WEEE)
• Air Filter Replacement: Depending on the usage (twice a year recommended)
• Radiators Replacement: Once a year

 

UVC LIGHT CALCULATOR:

Select a UVC sterilizer product
Estimate the room volume OR distance between the product and the working surface
View the treatment time that is automatically calculated
(By default, the dose is set to

 

67 

J/m²

 that is the average dose required to inactivate viruses)

 

BENEFITS OF UVC TECHNOLOGY:

UVC radiation has been proven to be effective against waterborne and airborne pathogenic micro-organisms including those responsible for cholera, hepatitis, polio, typhoid, giardia, cryptosporidium and many other bacterial, viral and parasitic diseases
UVC installations have low capital and operation cost
UVC technology is environmentally friendly
UVC installations are easy to operate and to maintain
UVC radiation has no harmful effect when overdosed on surfaces, water or air
UVC radiation works instantly and the effectiveness does not depend on the temperature
UVC disinfection is a physical process: no substances are added
The UVC disinfection effect is directly related to the UV dose (which is the product of intensity and exposure time of the micro-organisms) so it's effectiveness can be simply measured once the system design is validated

---

Luxibel UVC Air Disinfection Unit FAQs

Yes. The B Air v2 comes included with 2x Philips 55W TUV T8 fluorescent lamps

First, estimate the room volume. Then, enter the data to the Luxibel UVC calculator designed by the Prof Waclav Dabrowski institute. You will be given a recommended answer. [Disclaimer: Disinfection efficiency depends on more parameters like positioning of the unit(s) in the room, the use of Nozzle's, etc. Please contact your Luxibel UVC installer for specific advice on your installation.]

Luxibel uses scientifically proven UVC light sources by Signify (the new company name of PHILIPS Lighting). Signify together with the National Emerging Infectious Diseases Laboratories (NEIDL) at Boston University in the US have conducted research that validates the effectiveness of Signify's UV-C light sources on the inactivation of SARS-CoV-2, the virus that causes COVID-19. Regarding safety concern, there is no risk of harmful radiation to people, as Luxibel UVC B Air V2 carries out the UVC disinfection process within a fully-enclosed device.

Yes, it has CE certification and is ROHS, EMC, WEEE and LVD compliant.

It is currently used in many sectors including offices, retail stores, restaurants & bar, studios, clinics and etc.

Luxibel recommends installing the product in a protected area where the temperature does not fall below 5° C and the humidity level is low. The Product functions ideally in a temperature range from 15°C to 25° C.

Luxibel recommends cleaning and replacing the lamps and air filters at the required service intervals. (Air filter replacement: depending on the usage - twice a year recommended. Radiators replacement: once a year) Before performing any service or maintenance always unplug the Product and disconnect the power supply. Clean the external surfaces with a soft cloth and non-aggressive cleaning agents only.

Disclaimer: The information in this document has been compiled from reference materials and other sources believed to be reliable and given in good faith. No warranty, either expressed or implied, is made, however, to the accuracy and completeness of the information, nor is any responsibility assumed or implied for any loss or damage resulting from inaccuracies or omissions. Each user bears full responsibility for making their own determination as to the suitability of Luxibel products, recommendations or advice for its own particular use. AED Distribution NV makes no warranty or guarantee, express or implied, as to results obtained in end-use, nor of any design incorporating its Products, recommendation or advice. Each user must identify and perform all tests and analyses necessary to ensure that it's finished application incorporating Luxibel's products will be safe and suitable for use under end-use conditions. Each user of devices assumes full responsibility to become educated in and to protect from harmful irradiation. AED Distribution NV specifically disclaims any and all liability for harm arising from buyer's use or misuse of UVC devices either in development or end-use.
Choosing a selection results in a full page refresh.
Opens in a new window.