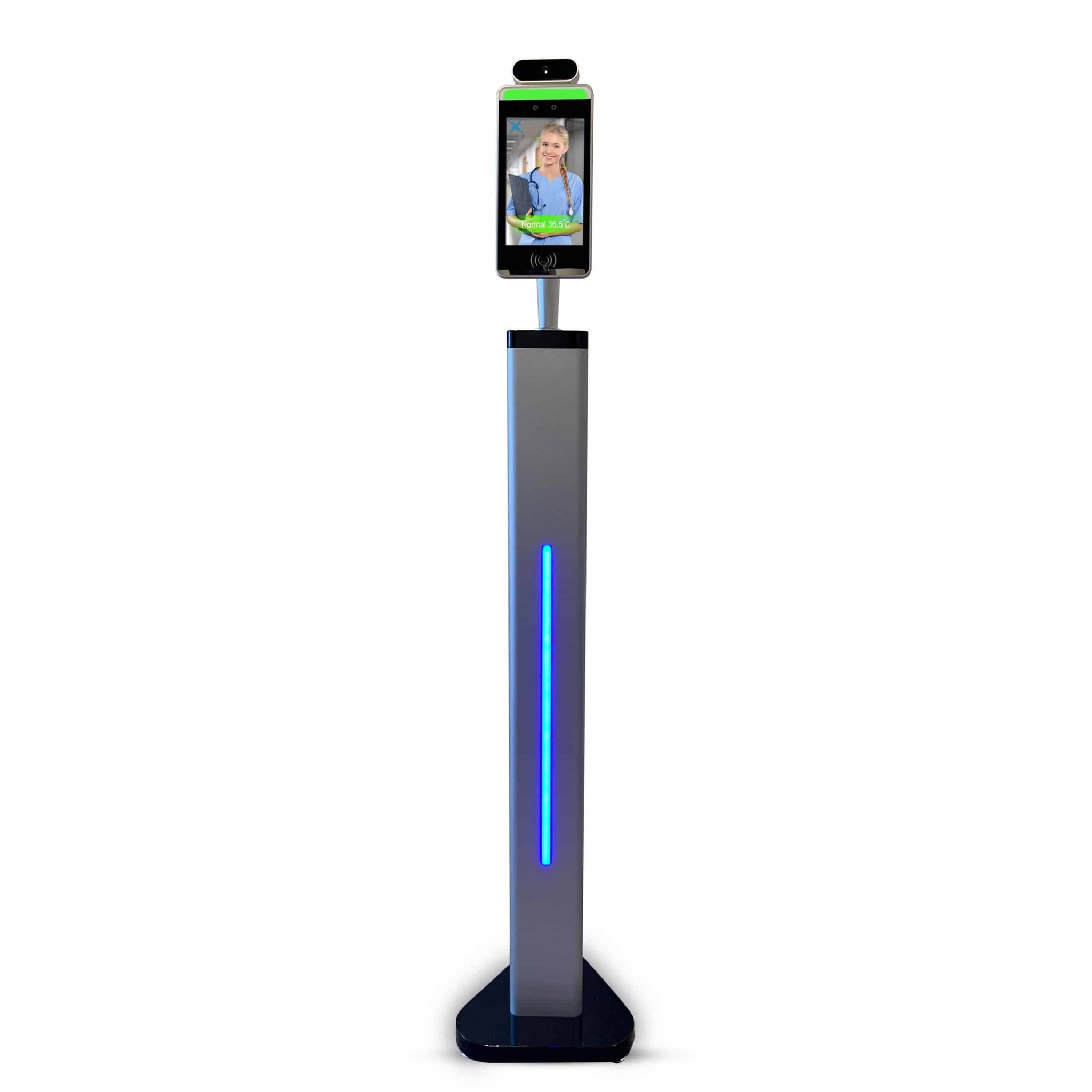 Xenon Fever Defence Thermal Scanner
Product No. Xenon
Regular price
$2,701.00
$3,322.23
Sale price
$1,563.00

excl. $359.49 VAT
$1,922.49

incl. $359.49 VAT
Unit price
per
Shipping calculator

Please enter correct zip code
Payment methods
Product details

Xenon Fever Defence Thermal Scanner - Temperature Screening Unit

✔ Currently used in many businesses  ✔ Available in stock  ✔ Fast Shipping

To keep your staff and customers safe, the Xenon Fever Defence is a standalone temperature screening solution that is easy to install and simple to operate without an Internet connection.

Users are screened in less than 1 second without the need for a face covering to be removed, avoiding congestion at the entrance. When a user with an elevated temperature is screened, a red light is visible, an audible message is delivered and a warning alarm sounds.  

The device has been installed at firms across numerous industries ranging from construction sites and offices to retail and childcare settings in the EU and US markets.

Why Choose Xenon Fever Defence?

Quick Facial Temperature Scanning

High Temperature Measurement Accuracy

Easy & Quick Installation

Compact & Lightweight

Wide Measurement Distance Range

See Xenon Fever Defence in Action

---

Cutting Edge Temperature Screening Technology

With industry-leading features & benefits

NON-CONTACT, VERY FAST & ACCURATE
• Powered by advanced thermal imaging & AI technology
• Clear audible instructions and a sleek LCD interface for easy screening
• No need to remove facemasks
• Adjustable display unit to fit different heights

SIMPLE FEVER DETECTION WITH ALARM
• A red & green light stop-go system
• Green: A normal temperature measurement permitting safe entry
• Red: A potential fever temperature detected, politely warning the user not to enter the building with an audible message.

EASY & QUICK INSTALLATION
• An easily assembled standalone solution with <15 mins to install
• A plug-and-play device: Only a power outlet at the installation spot needed

SECURE DATA STORAGE 
• A range of data storage options
• e.g. 'Full Privacy Mode'': No records are stored. ''Auto-Delete Mode'': Records are deleted after a set number of days.

TECHNOLOGY & DASHBOARD
• A cloud dashboard for users to monitor temperature-screening activities 
• Hoisted on secure AWS servers to protect data with high-grade encryption

---

Unbox Your Xenon Fever Defence & Feel Its Power

Box Content & Specifications

Base Unit

Centre Column

Display Unit

Power Adapter

CAMERA


• Measurement distance: 30-80cm
• White balance: Automatic


SCREEN


• Size: 8.0 inch IPS LCD Screen
• Resolution: 800*1280

PROCESSOR
• CPU: RK3288 Quad-core, RAM 2G, main frequency is up to 1.8GHz
• Load memory: EMMC 4GB
GENERAL
• 1-Year Warranty
• Network Module: Support Ethernet, wireless (WIFI) Audio Support for 2.5w /4R speakers
• USB Ports: USB 2.0 x 2
• Power Supply: DC12V(±10%)
• Power Consumption: 13.5W (Max)
• Head Unit Dimensions: 260.18 x 132.88 x 61.7(mm)
• Height Included Stand: 1480 (mm)
• Weight: 11.9kg

 

---

Made with Your Safety in Mind

Perfect for use in a range of workplace spaces including offices, retail stores, construction site, hotels, childcare centres and clinics

---

What professionals think about it

Trusted by people from different industries

We really didn't have to ask anyone to check their own temperature. They all use it now as a matter of course as it gives them comfort knowing that they don't have a temperature and that they can go home to their families with peace of mind. I strongly recommend this Xenon Temperature Screening Device to anyone who may be interested.

-----

Liam Keighery, Aramark

Fever Defense has been a great addition to our practice. It's modern, high-technological design compliments our state of the art interior and the voice control alerts all patients to be temperature screened. It has greatly reduced our COVID-19 screening process time. The technology has allowed our team to ensure that all patients are not febrile at the point of entry to the Institute in a timely way without human contact. It is also very reassuring to our patients.

-----

Maria Redmond, Institute of Dermatologists

Ballymore installed Xenon Fever Defense in all of our offices and sites in Ireland. The installation is simple and the nature of the monitors allows for relocation and setting up in different locations with ease and the confidence that it will function as designed. The monitors are the first line of defence in keeping COVID-19 from getting onto our sites and don't cause any undue delays in ensuring staff can access the projects and offices. We will be rolling out their installation on upcoming projects.

-----

Martin Leonard, Ballymore

---

Press

 

Schools are among top groups introducing Temperature testing

 

Xenon secures €1m investment for fever detection device

 

Xenon Fever Defence feature on Virgin Media

---

Useful ''How-To'' Resources

---

Xenon Fever Defence Thermal Scanner FAQs

Xenon Fever Defence is not a medical device and should be only used for primary screening of potential fever symptoms.

The device does not require wifi or internet connection to allow its fever testing functionality

Xenon and MTN SHOP are advising that GDPR signage should be included at the installation location. The signage should include information such as what the device is used for, what information has been recorded and who users should contact if they want to get their information removed from the device.

In order to comply with GDPR and privacy laws, Xenon Fever Defence currently doesn not have an email option. However, the manufacturer may work on something else in the future.

Xenon Fever Defence is built on an android platform allowing potential integration with a variety of different access control and security systems. The current version of the software however is not integrated with any existing systems.

Online and phone customer support will be provided to customers between Monday to Friday in normal business hours.

It comes with a 1-Year product warranty.
Choosing a selection results in a full page refresh.
Opens in a new window.