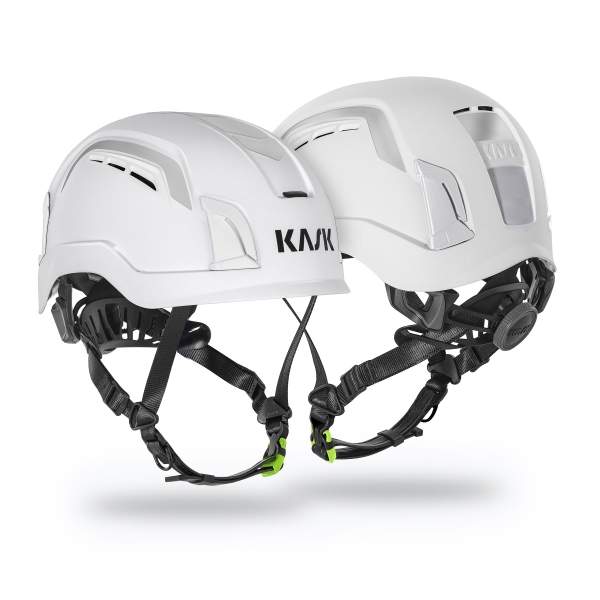 Kask Zenith X PL HiViz Helmet
Product No. WHE00080.201
Regular price
$107.00

excl. $24.61 VAT
$131.61

incl. $24.61 VAT
Unit price
per
Shipping calculator

Please enter correct zip code
Payment methods
Shipping information

• IMPROVED external shell with advanced materials for greater impact energy
• Easy size adjustment with a big dial
• Padding attachment enhances durability & ease of replacement
Product details

Zenith X PL HiViz Helmet - Next-Generation Construction Hard Hat

100% designed and made in Italy, the Kask Zenith X Hi-Vis PL is a safety helmet or better a fully equipped head protection kit with a high level of comfort and safety.

The helmet fits all heads from 52 to 63 cm in diameter. It allows for a quick and easy adjustment in width, height and tilt. The antibacterial inner padding prevents the development of unpleasant odours.

Like all other Kask Helmets, different visors, lamps and earmuffs can easily be attached to the helmet for unique adaptability to the worker's

User Manual - Declaration of Conformity




Full Features of Zenith X PL Hi Vis Helmet

1.Hi-Vis Fluorescent Shell
2.Good Ventilation
3.Easy Integration of Accessories
4.Adaptive Fit
5.Chin Strap
6.Dry+ Fabric
7.Washable Pad
8.Lateral Adjustment
9.Ring to Hook
10.Hi-Vis Nameplate

Full Explanations:

1. High breathability: Great Ventilation due to 8 air intakes.
2. Hi-Vis Shell & Lamp Clips: Strong nylon external luminescent lamp clips are compatible with all headlamps with elastic bands.

3. Easy Integration of Accessories
- Frontal Accessory Slot: For badge holders, headlamps, cap cover for debris protection etc
- Easy Click System: To enable visor adapters to mount face protection and eye protection to a helmet.
- Earmuff Slots: Provided with integrated slots for earmuffs with bayonet attachment.
- Earplug Holders: Lamp clips designed with secure earplug holders for easy access to sound suppression.
- Strong Nylon External Lamp Clips: Compatible with all headlamps with elastic bands on the market
4. Adaptive Fit System: A new, double diameter dial allows for even easier size adjustments while side wings ensure a secure fit.
5. EN12492 Eco-friendly Chinstrap: Provides a high degree of comfort and significantly reduces irritation to the skin. Hypoallergenic and washable.
6. Dry+ Fabric Technology: Exceptionally soft textiles for enhanced user comfort. Infused with a deodorizing silver ion treatment.
7. Padding: Washable & Removable
8. Lateral Adjustment: For a more precise fit. New fastener is KASK signature lime for added visibility and enhanced ease of use.
9. Ring to Hook: Fitted with a special loop on the chin strap which allows the helmet to be connected to a harness
10. Hi-Viz Nameplate: Designed with a high visibility nameplate for easy identification on the back of the helmet.

Specifications:

EXTERNAL SHELL: Lightweight HD Polypropylene shell with exponential better performance. Excels in impact absorption, especially at lower temperatures (-30ºC). Resists yellowing and degradation.
INTERNAL SHELL: High-density inner shell component that provides stronger side impact absorption, coupled with a low-density inner core optimized for protection from top impacts.
HEADBAND: Soft PA Nylon
SIZE: Universal-adjustable from 52 to 63 cm
WEIGHT: 480 g
STANDARD: EN 12492
3-Year GUARANTEE
10-Year SHELF LIFE



Zenith X PL Helmet Accessories

Zenith X collection has a fantastic range of helmet accessories including visors, earmuffs, neck shades, lamp clips and more. All the face protections can be easily mounted and interchanged with an innovative integrated mount system for unique adaptability to the worker's needs. 

Discover the full list of KASK Zenith X accessories now.


V I S O R S


1. 



KASK Zenith Visor - ZEN Clear / Smoke / Silver Mirror


2. 


KASK Zenith Visor (Metal Mesh) - ZEN MM


3.  



KASK Zenith Visor - ZEN FF Clear Style

 

4. 

(To connect the visor to the Zenith helmet)

6. 

(To install Zen FF, Zen MM and Zen PM to the Zenith helmet)


KASK Earmuffs - Low to Medium Level of Noise (Green)
KASK Earmuffs - Medium to High Level of Noise (Yellow)
KASK Earmuffs - Very High Level of Noise (Orange)

2. 


N E C K  S H A D E S

1. 
Choosing a selection results in a full page refresh.
Opens in a new window.